Custardy bechamel layered with sweet aubergine, courgettes and carrots infused with rosemary, thyme and oregano; Vegetable Lasagne.
Languish in self-indulgence. And, take a bite of heavenly ecstasy.
This dish will topple any belief that vegan food can't be super yummy.
Make this;
When you fancy a hearty dish that'll make that perfect Sunday roast. Insatiable and lush comfort eating dining
When you've got the fam visiting and need a mouth-watering dish that'll satiate their hungry appetites
When you've taken a brisk walk to the local park or countryside and
Vegetable Lasagne was inspired when visiting my brother for an extended break in Singapore. He is a debonair in the kitchen. Admittedly, I was pretty impressed with his vegan version of this vegetable lasagne. I have slightly tweaked his recipe to give it that wholesome creaminess.
Vegetable Lasagne is vegan.
What to do next
Tag me on @ethiveganquantum on Instagram to show me what you've made and let me know you're happy for me to share.
My recipes are featured in vegan speciality publications: Nourished, Vegan Life, Plant Based and Vegan, Food and Living.
Order my first self-published book, "Essence: The Beginner's Guide to Veganism" part of the three-part Circle of Food series. My second book "Presence: The Ascending Vegan" – which explores how to maintain a vegan practice is out in 2027 – I have compiled all the chapters including recipes.
Going strong since 2013.
Love.
Edward x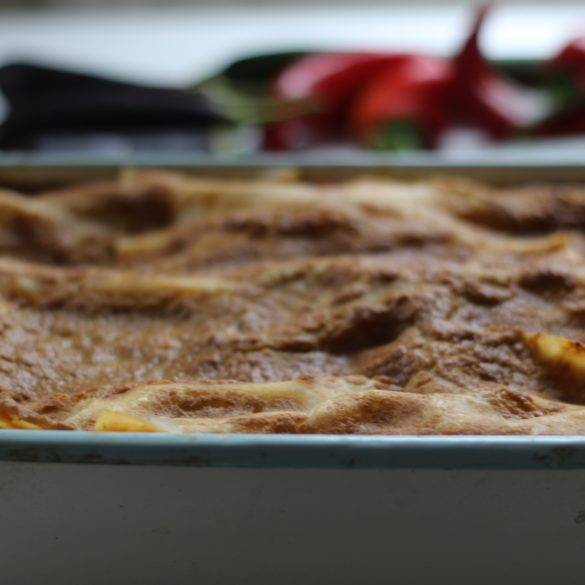 Ingredients
1 aubergine, sliced
5 carrots, thinly sliced
800g tomatoes
60g plain flour
Coconut oil
1.5 litre oat milk
150ml olive oil
2 red onions
1 yellow onion
1 courgette, sliced
2 Spanish peppers
2tbs rosemary, chopped
2tbs thyme, chopped
2tbs oregano, chopped
2tbs tomato puree
2tbs liquid amino
black pepper to taste
500g lasagna sheets
50g nutritional yeast
Instructions
1. Preheat oven to 180 degree Celsius.
2. Place the sliced aubergine in a bowl and season with sea salt and leave for about an hour
3. Place the carrots in pan full of the 150ml of boiling water. Cover with a lid and cook for about 10 minutes. Place the carrots with the water in a large bowl.
4. Roughly blend the tomatoes in a blender, ensuring that it retains a coarse texture.
5. In a saucepan, under a low heat, add the flour to the sunflower butter. Combine until all the lumps disintegrate and it forms a creamy texture. Measure out 1.25litres of milk and a little at a time. Allow the sauce to thicken ensuring it retains its creaminess. The sauce is done once all the milk is added and combined. You may need to add additional flour and if so, add only a tablespoon at a time.
6. In a frying pan, fry the onions in some of the olive oil until the onions are translucent. Take the onions out and put into a bowl containing the tomatoes.
7. Continue using the frying pan with the remaining oil as needed. Fry the courgettes until they soften. Place into the bowl containing the tomato and vegetable mixture.
8. Dab the aubergine with a tea towel to remove any excess liquid. Finally, fry the aubergine in the frying pan until tender and combine with the tomato mixture.
9. Add the herbs, tomato puree, liquid amino and Spanish peppers to the tomato mixture and season to taste.
10. Line a large casserole dish with coconut oil and layer the bottom with sheets of lasagne. Add the tomato and vegetable mixture and then the cream sauce. Continue adding in this order. The final layer on top should be the cream sauce.
11. Place the casserole dish in the centre of the oven for about 20.
12. Mix the nutritional yeast with the 250ml of the retained milk. Place onto the lasagne. Use the back of a spatula to ensure that it covers the entire surface. Return to the oven and cook until golden brown on top.
13. Serve with salad.