For some, Kerelas are sharp and bitter. However, I enjoy them, not only because of that but they also make a great detox.  This is a great Indian cuisine.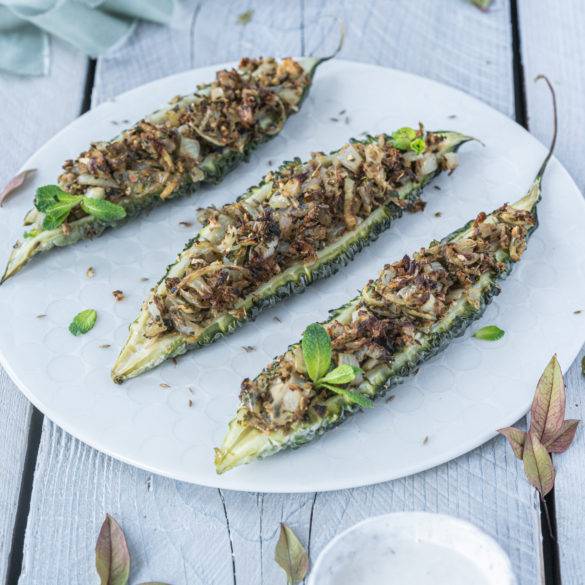 Ingredients
Salt
2 Kerela
3tbs olive oil
1 medium onion
2 cloves garlic, chopped
1 inch ginger, finely chopped
½ bunch mint sprigs
1tsp cumin
1tsp mango powder
optional – 1 chilli
Instructions
Pre-heat oven to gas mark 180 degrees Celsius or if convection oven to 160 degrees Celsius.
Cut the Kerala in two. Using a teaspoon, scoop out the seeds. Leave the seeds to one side.
Take the leftover Kerela boats and salt the outside surface. Leave aside for a couple of hours. Rinse off the salt.
Place the seeds in a food processor. Pulse and leave to one side.
Sauté the onion with the garlic and ginger in olive oil until the onions turn translucent.
In a chopper, chop the mint. Add cumin and mango powder to the onion mixture. Set to one side.
Use a tablespoon to scoop the mixture into the bulbs and cover with the tops. Drizzle over the oil.
Cook in the oven for about 30 minutes until the Kerelas soften.
Serve warm.