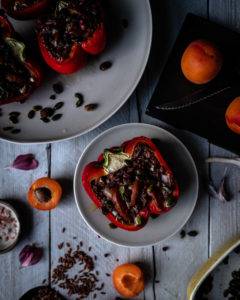 Stuffed Peppers with Camargue Rice and Apricots
Stuffed Peppers with Camargue Rice and Apricots is another one of my more traditional recipes. Something I used to make during my early twenties. What I love about these Stuffed Peppers with Camargue Rice and Apricots is the sweet taste the various ingredients and the punchiness of the stuffing.
Recipe type:
Vegan Main, Vegan Side, Vegan Starter
Cuisine:
Vegan, Paleovegan, Paleo
Ingredients
4 medium peppers
Oil for glazing
250g Camargue rice
1 shallot, chopped
2 cloves of garlic, minced
1tbs balsamic vinegar
1tbs apple cider vinegar
2tbs olive oil
2 apricots
Season to taste
Garnishing
50g pumpkin seeds
2 tbs olive oil
Instructions
Cook the rice in water until softened. Set to one side in its water.
Pre-heat the oven to gas mark 180 degrees Celsius or if you have a fan oven 160 degrees Celsius.
Cut the peppers in half removing the pith and seeds. Glaze the back of the peppers with oil. Set to one side.
Place the rice in a large mixing bowl with the shallot, garlic, vinegars, oil. Chop the apricots and toss into the bowl. Season to taste this stuffing.
Use a spoon to spoon in the stuffing into the pepper cavities.
Lay the peppers into a baking dish. In a separate baking dish cover the pumpkin seeds with oil.
Bake the peppers and pumpkin seeds for 20 minutes.
Serve by garnishing the peppers with the pumpkin seeds.