Stuffed Peppers with nutty Camargue Rice and juicy Apricots infused with oregano, lemon juice and a dash of balsamic vinegar.
Sample a taste of yumminess. And, flutter.
This dish will burst your belief that vegan food can't be incredibly simple to put together.
Make this:
When you've got guests over last minutes famished and ready for some wholesome nutritional grub
When you've just spent the day out gardening and need a nourishing dish that'll tick all the boxes
When it's a Friday night and you've got a nice bottle of bubbly in the fridge and a fancy something a little exotic, lush and simple
Stuffed Peppers with Camargue Rice and Apricots was inspired when I lived in Nottingham having guests over for dinner and wanting a simple dish easy to rustle up without spending too much time in the kitchen.
Camargue rice is a type of red rice cultivated in the wetlands of Camargue region in the south of France.  It has a nutty flavour to yet, is firm and less stickier than other varieties of rice.
Stuffed Peppers with Camargue Rice and Apricots is vegan.
What to do next
Tag me on @ethiveganquantum on Instagram to show me what you've made and let me know you're happy for me to share.
My recipes are featured in vegan speciality publications: Nourished, Vegan Life, Plant Based and Vegan, Food and Living.
Order my first self-published book, "Essence: The Beginner's Guide to Veganism" part of the three-part Circle of Food series. My second book "Presence: The Ascending Vegan" – which explores how to maintain a vegan practice is out in 2027 – I have compiled all the chapters including recipes.
Going strong since 2013.
Love.
Edward x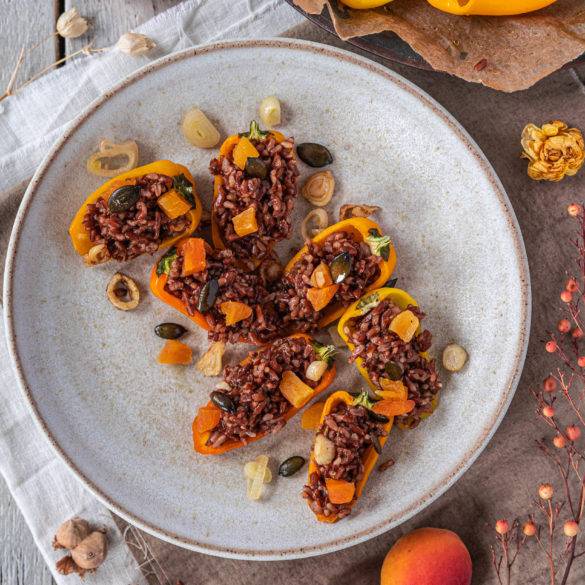 Ingredients
250g peppers

Oil for glazing

125g Camargue rice

1 shallot, chopped

2 cloves of garlic, sliced

1tbs balsamic vinegar

1tbs apple cider vinegar

½ lemon juice

1tbs oregano

2tbs olive oil

50g dried apricots

Season to taste

Garnishing

25g pumpkin seeds

2 tbs olive oil
Instructions
Cook the rice in water until softened. Set to one side.
Pre-heat the oven to gas mark 180 degrees Celsius or if you have a fan oven 160 degrees Celsius.
Slice the peppers in half removing the pith and seeds. Glaze the back of the peppers with oil. Set to one side.
Sauté the shallots in oil until translucent. Baste in the garlic and cook for a couple of minutes more.
Place the rice in a large mixing bowl with the shallot, garlic, vinegars, oil. Chop the apricots and toss into the bowl.  Season to taste this stuffing.
Use a spoon to spoon in the stuffing into the pepper cavities.
Lay the peppers into a baking dish. In a separate baking dish cover the pumpkin seeds with oil.
Bake the peppers for 20 minutes. And, pumpkins seeds for 10 minutes.
Serve by garnishing the peppers with the pumpkin seeds.