Get something sweet and succulent in your gob. And, dissolve.
Moist caramel-soaked tropical Pineapple Upside Down Cake scented with rose water and licorice-like Star Anise.
This dish will overcome any belief that vegan food can't be super yummy.
Make this:
When your favourite Aunty Jill is coming over for tea and you'd like a special dessert that will have her thrilled
When you've got your kiddies' School Fete organised and need a cake as your contribution
When you've a dinner party organised and a sweet treat for guests will polish off your event
Pineapple Upside Down Cake was inspired by nostalgia for common school café food and creating a gluten-free version to satiate.
Blanched almonds, I purchase from a nifty Asian outlet in Hayes.  It has an online presence too which can be found here – I love it because it is reasonably priced and tends to be good quality stuff which I use.
Pineapple Upside Down Cake is vegan and gluten-free.
Love.
Edward x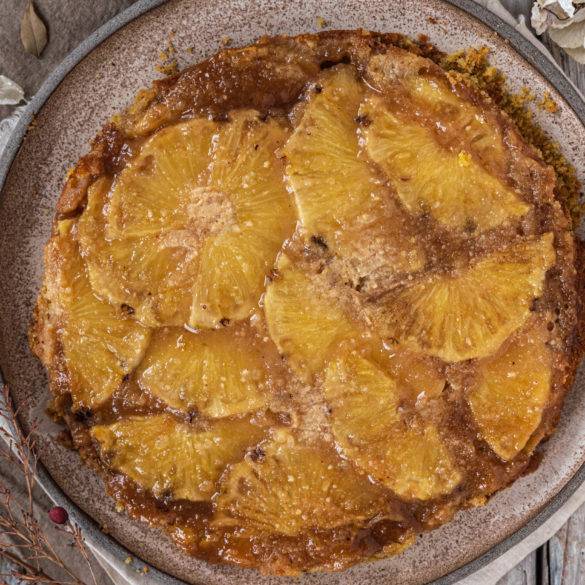 Ingredients
½ pineapple for base

150g millet

100g polenta

50g almonds, blanched

2 Star Anise

1tsp baking soda

Pinch of salt

125ml olive oil

150g flesh of pineapple

2tsp rose water

100g brown sugar

25ml olive oil
Instructions
Pre-heat the oven to gas mark 180 degrees Celsius or if you have a fan oven 160 degrees Celsius.
Line a cake tin with olive oil and parchment paper at the base set to one side.
In a food processor, grind the polenta, sugar, Star Anise. Place in a large mixing bowl with the baking soda and salt.  Set to one side.
In a non-stick pan, caramelise the brown sugar and as it softens and melts, add the olive oil. The sugar should crystalise. Transfer to and line the base of the cake tin.
Cut the pineapple into rings removing the core and cutting into pieces. Lay on top of the sugar.
Any excess pineapple flesh, weigh to 150g and blend in a blender with the olive oil and rose water.
Fold the wet ingredients in to the dry ingredients with a spatula and lay on top of the pineapple pieces.
Cover with foil. Bake in the oven for about 1 hour. The crust will turn into a light golden colour and a skewer should be able to run through.
Remove from heat and set to one side until cool.
Serve on its own or with ice-cream.