Sweet Potato Shepard's Pie with Walnut Meat
Sweet Potato Sheppard's Pie with Walnut Meat came about as an idea from a friend who made something similar. It got me thinking, why not combine the caramelised taste of sweet potatoes with the meaty taste of walnuts. This is a hearty meal.
Ingredients
For the crust
700 sweet potatoes
25g sundried tomatoes, chopped
250g vegan cream
pinch of salt
a few sprigs of dill
For the filling
1 medium onion
2 tbs olive oil
200g walnuts
100g olives, de-stoned
2 medium fennel
½ lemon, juice and zest
a few sprigs of thyme
pinch of salt
400g chopped tomatoes
Instructions
Preheat the oven to 170 degrees Celsius.
Remove the skin of the sweet potatoes and grate. Place in a large bowl with the sundried tomatoes, vegan cream, salt and dill.
Sauté the onion in olive oil until the onion turns translucent. Set to one side in a large mixing bowl.
Place the walnuts into a chopper and roughly chop.
Place the fennel, with the olives, lemon juice and zest, thyme and salt and whizz until the fennel is roughly blended.
Add the walnuts, fennel mixture and chopped tomatoes to the onions and combine well.
Layer the walnut meat filling at the bottom of a large baking tray. Smooth over with the back of a spatula.
Pour over the sweet potato topping and smooth over with the back of a spatula. Cover with aluminium foil and back in the oven for about an hour.
Serve warm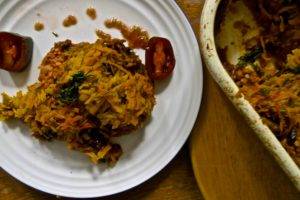 _____________________________________________________
EthiVegan by Edward Daniel
Thank you for taking the time to view my recipes, interviews and events pages.  I hope I inspire you to make these recipes and also inspire you to become very best versions of yourself.
You can follow me on Instagram here (@ethivegan) where I have quick one minute update videos and for interviews and cooking demonstrations you can subscribe to my Youtube channel here.  You can watch live cooking demonstrations by subscribing to my Facebook profile here (@ethivegan).
For more information about me – click here
See you soon.
Love.
Edward x
Edward Daniel | Vegan Chef