London Borough Market seems quintessentially continental and yet, exquisitely English – I was able to find some black truffle, and rustled up this dish for meat-eaters who were visiting from the Nottingham. Obviously, they lapped up this dish as a suitable alternative to steak. Tagliatelle con Tartufo Fresca – otherwise, fresh Tagliatelle with Truffle has a nutty subtle flavour. Make sure that you buy the best extra virgin money can buy and fresh tagliatelle lifts this dish and makes a delightful starter for a lavish dinner.
What to do next
Tag me on @ethiveganquantum on Instagram to show me what you've made and let me know you're happy for me to share.
My recipes are featured in vegan speciality publications: Nourished, Vegan Life, Plant Based and Vegan, Food and Living.
Order my first self-published book, "Essence: The Beginner's Guide to Veganism" part of the three-part Circle of Food series. My second book "Presence: The Ascending Vegan" – which explores how to maintain a vegan practice is out in 2027 – I have compiled all the chapters including recipes.
Going strong since 2013.
Love.
Edward x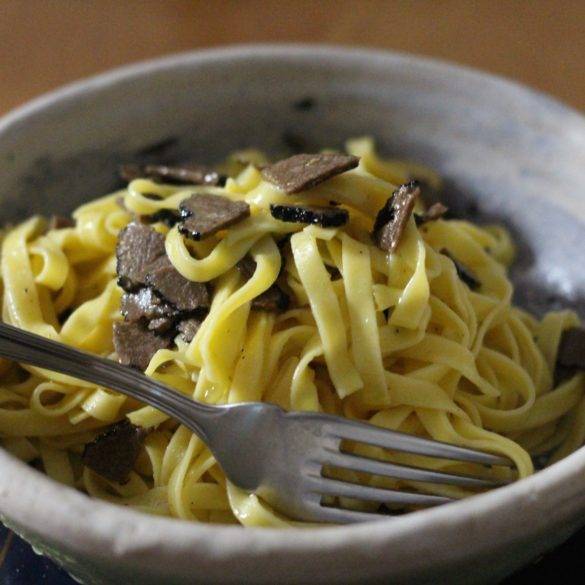 Ingredients
1 medium black truffle
250g fresh tagliatelle pasta
6 tbs good quality extra virgin olive oil
1tsp rock salt, to taste
soda bread, as a side
Instructions
1. If there is mud on the black truffle, rinse very lightly in cold water. Take a tooth brush and gently remove the mud from the truffle. Pat dry with a dish cloth.
2. Cut the truffle in half and thinly slice the truffle.
3. Boil the water in a saucepan. Add a teaspoon of rock salt. Place the tagliatelle in the water and time to cook for three minutes. Switch off and remove from the heat and strain. Return the pasta to the saucepan.
4. Top Tip – you do not want to overcook the pasta and the pasta will still be cooking in the heated saucepan.
5. Add the olive oil and salt and combine well. Lastly, add the truffle.
6. Serve with soda bread.