Frecanto; aubergines, zucchini and potatoes slowly baked in white wine, olive oil, garlic and infused with oregano.
Glorify your tastebuds.  And, indulge.
This dish will eliminate your belief that vegan food can't be made with a few choice household ingredients.
Make this:
When you're having a lazy day and a fulfilling and nourishing dish as you curl up on the sofa is needed
When you've just had a vigorous day at the gym and a hearty meal is much deserved
When you've had a long day at the office and return home famished and a super lush dish that will satiate your appetite is a prerequisite
Frecanto was inspired by Italian friend, Federico who introduced me to this dish. I have kept the ingredients to this Frecanto simply to zucchini, potatoes and aubergines. Optional extras include carrots and peppers. I fell in love with the simplicity and lushness of this dish.
Frecanto is vegan and Italian cuisine.
What to do next
Tag me on @ethiveganquantum on Instagram to show me what you've made and let me know you're happy for me to share.
My recipes are featured in vegan speciality publications: Nourished, Vegan Life, Plant Based and Vegan, Food and Living.
Order my first self-published book, "Essence: The Beginner's Guide to Veganism" part of the three-part Circle of Food series. My second book "Presence: The Ascending Vegan" – which explores how to maintain a vegan practice is out in 2027 – I have compiled all the chapters including recipes.
Going strong since 2013.
Love.
Edward x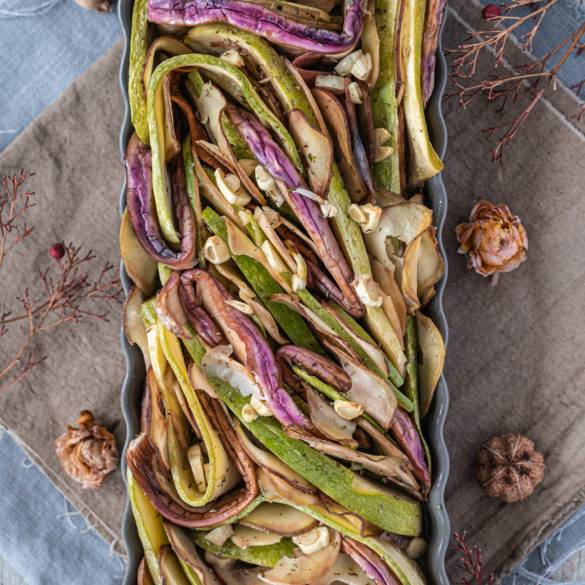 Ingredients
100ml extra virgin olive oil

2 aubergines

2 zucchini

4 gloves garlic, sliced

2 large potatoes, skinned

200ml white wine

1tbs oregano

Salt and pepper to season
Instructions
Pre-heat the oven to gas mark 180 degrees Celsius or if you have a fan oven 160 degrees Celsius.
Slice the aubergines and place in a colander. Cover with salt. Place a bowl underneath to allow any excess fluid to accumulate. Leave to stand for a couple of hours and dry the aubergines with a clean tea towel to remove any surplus fluid.
Into a large mixing bowl dunk, the potatoes with 80g oil and set to one side.
Similarly, dunk the aubergines and zucchini, and set to one side.
With the remaining oil add the wine and oregano.
Place the potatoes, aubergine and zucchini in a large baking dish. Pour over the oil. Cover with aluminium foil and bake in the oven for an hour.
Serve warm. Drizzle on the remaining oil
Season with salt and pepper.