I tend to make my own curry paste as it tends to be fresher and the consistency I like it. This Thai Pumpkin Curry is great when having a Eastern theme to an evening.
What to do next
Tag me on @ethiveganquantum on Instagram to show me what you've made and let me know you're happy for me to share.
My recipes are featured in vegan speciality publications: Nourished, Vegan Life, Plant Based and Vegan, Food and Living.
Order my first self-published book, "Essence: The Beginner's Guide to Veganism" part of the three-part Circle of Food series. My second book "Presence: The Ascending Vegan" – which explores how to maintain a vegan practice is out in 2027 – I have compiled all the chapters including recipes.
Going strong since 2013.
Love.
Edward x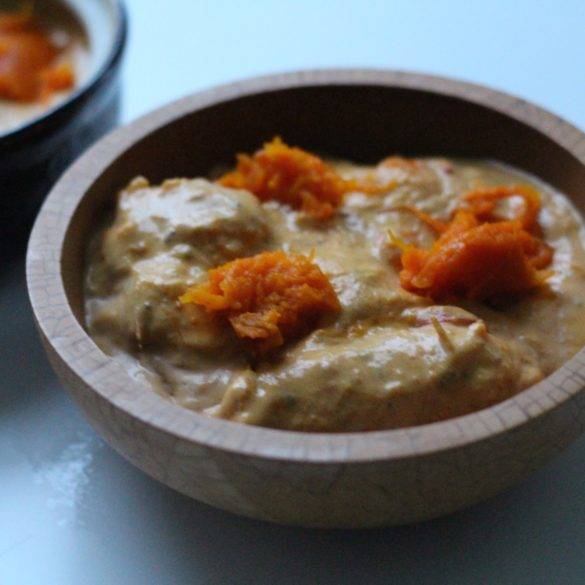 Ingredients
2 red birds eye chillies – one sliced
2 inches fresh lemon grass
½ inch ginger
5 kaffir lime leaves
400ml coconut milk, rich and creamy
1tsp cumin, powder
500g pumpkin, peeled and diced
1tsp white wine vinegar
½ lime, squeezed
1tbs date syrup
Instructions
To make the curry paste, place one of the red chillies, the lemon grass, ginger and lime leaves in a blender and combine until finely chopped. Place in a bowl with cumin and white wine vinegar and combine well.
In a pan, add 50ml of coconut milk to the boil and add the curry paste. Add the chopped pumpkin and cook until tender. This should be about 20 minutes. I prefer to have it slightly crunchy.
Add the remaining coconut milk and season with the limejuice and date syrup. Cook for a further three to four minutes.
Switch off the heat and add the remaining sliced chilli and serve.