Vegan Christmas Pudding I create using my Fig and Walnut Mincemeat recipe. It is full of fruity sumptuousness and without any added sugar. The richness of the fruits provides a lushness to this recipe. I use a steamer as for me this gets the best results.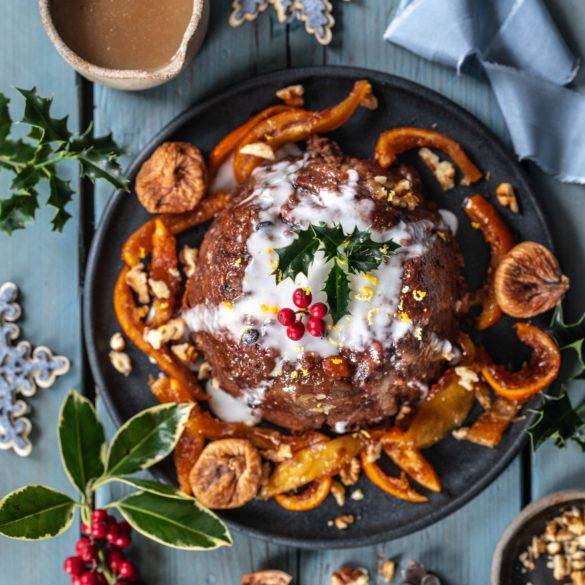 Ingredients
100g millet, ground
50g almonds, ground
2tbs flaxseeds, ground
500g Fig and Walnut Mincemeat - see recipe here – https://www.ethivegan.com/recipe-fig-and-walnut-mincemeat-vegan-raw/
1tsp baking powder
100g coconut oil, melted
zest of one orange
Toffee Sauce - see recipe here - https://www.ethivegan.com/recipe-toffee-sauce-vegan/
Instructions
In a high-speed blender, whizz together the millet, almonds and flaxseeds until fine. Place in a large mixing bowl with the mincemeat, baking powder and zest. Combine well using a spatula.
Add the coconut oil to the mixture. Mix thoroughly.
Line a 600ml pudding bowl with olive oil and parchment paper to cover.
Place the mixture into the pudding bowl. Flatten with the back of the spatula.
Line the pudding basin with parchment paper.
Place the pudding mixture uncovered into the steamer and steam for an hour.
Leave to cool for about 10 minutes. Store in a cool place when needed.
Reheat by steaming for about 30 minutes.
Turn the pudding into a serving dish. Remove the parchment paper.
Garnish with the zest of the orange.
Serve with toffee sauce.