Vegan Christmas Cake made with Cherries and Pears came about because I was asked to undertaken more desserts and cakes following a recent survey. What I love is the Cherries and Pears give this dish a really fruity decadence. This is a special cake I bake for Christmas and is a great way to celebrate over the holidays.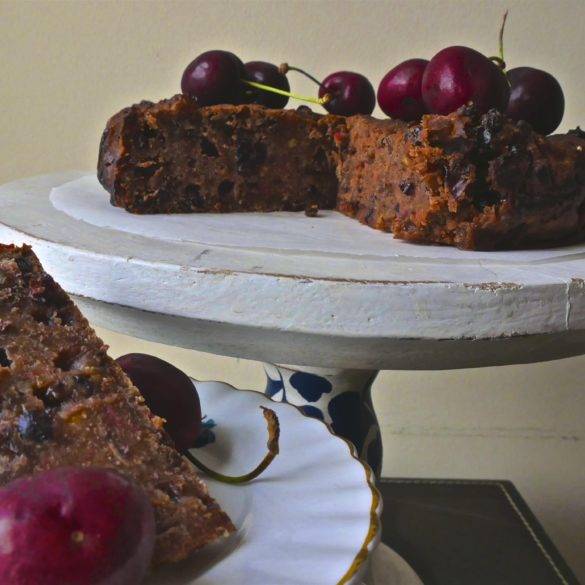 Ingredients
1kg Cherry and Pear Mincemeat – see recipe - https://buff.ly/2QETVfD
300g "00" doppio flour
4tbs flaxseed, ground
50g almonds, ground
1tbs treacle
1tsp vanilla extract
1tsp almond extract
1tsp rock salt
200g coconut oil, melted
Instructions
Preheat the oven to 170 degrees.
Place mincemeat, flour, flaxseed, and almonds in a food mixer and using a dough hook combine.
Add in the treacle, vanilla and almond extracts, and salt.
Fold in the coconut oil. Continuing whizzing.
Line a 9 inch circular cake tin with some olive oil. Place parchment paper round the tin so that it covers the edges.
Fold in the dough mixture into the tin. Cover with aluminium foil for about 1 hour. Remove the foil and continue baking for a further 30 minutes. The cake is baked once a skewer placed into it comes out clean.
Remove from the oven and allow to cool. Place into a tin and allow the flavours to mellow. Leave the cake to mature over a couple of weeks in a sealed container or alternatively, serve as necessary.
Notes
By Edward Daniel, Vegan Chef and Former Chair of The Vegan Society. Contributor to Vegan Life Magazine, Plant Based Magazine, Vegan Food and Living Magazine and OK! Magazine. Speaker and cooking demonstrator at Vegan Life Life Festival London, Mind Body and Spirit Festival London, Veganes Sommerfest Berlin, and Bali Vegan Festival. Author of "Essence: The Beginner's Guide to Veganism".