Wholefood Jackfruit Seaweed in Grapefruit Juice came about because I wanted to create something summery that was not too onerous. The other thing is that dish does not involve much heating which means it remains succulent. I serve this dish with zucchini spaghetti to give it freshness. I don't use oil in this recipe as the flavours just come steaming through without it.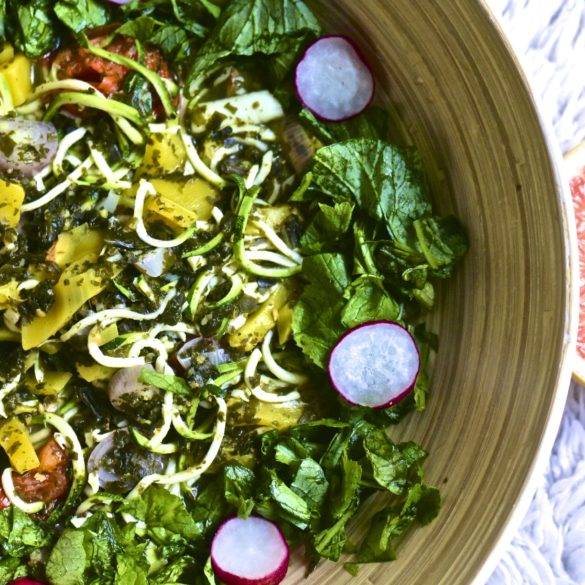 Ingredients
5g dried seaweed
300ml filtered water
2 cherry tomatoes, chopped
2 shallots
2 cloves of garlic, chopped
½ inch ginger, grated
125g jackfruit, ripe and chopped
½ grapefruit, juice
Instructions
Soak the seaweed in water in a large wok. Leave for about 10 minutes.
Add the tomatoes, shallots, garlic, ginger and cook over a gentle heat for about 5 minutes.
Add the jackfruit, and grapefruit juice. Gently heat for a further 5 minutes. Switch off heat.
Serve with zucchini spaghetti.
Notes
By Edward Daniel, Vegan Chef and Former Chair of The Vegan Society. Contributor to Vegan Life Magazine, Plant Based Magazine, Vegan Food and Living Magazine and OK! Magazine. Speaker and cooking demonstrator at Vegan Life Life Festival London, Mind Body and Spirit Festival London, Veganes Sommerfest Berlin, and Bali Vegan Festival. Author of "Essence: The Beginner's Guide to Veganism".