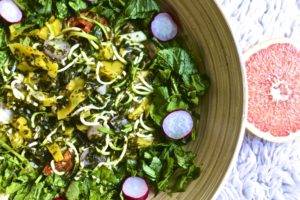 Wholefood Jackfruit Seaweed in Grapefruit Juice
Wholefood Jackfruit Seaweed in Grapefruit Juice came about because I wanted to create something summery that was not too onerous. The other thing is that dish does not involve much heating which means it remains succulent. I serve this dish with zucchini spaghetti to give it freshness. I don't use oil in this recipe as the flavours just come steaming through without it.
Ingredients
5g dried seaweed
300ml filtered water
2 cherry tomatoes, chopped
2 shallots
2 cloves of garlic, chopped
½ inch ginger, grated
125g jackfruit, ripe and chopped
½ grapefruit, juice
Instructions
Soak the seaweed in water in a large wok. Leave for about 10 minutes.
Add the tomatoes, shallots, garlic, ginger and cook over a gentle heat for about 5 minutes.
Add the jackfruit, and grapefruit juice. Gently heat for a further 5 minutes. Switch off heat.
Serve with zucchini spaghetti.
_____________________________________________________
EthiVegan by Edward Daniel
What future would you like to paint? What I say is that it is possible to lead a fulfilling life by going within, living in alignment, letting go of the past and thriving on a vegan diet.
If you want to uncover your purpose and live a more enriching life, why not purchase my book "Essence: The Beginner's Guide to Veganism"?
To order your copy of "Essence: The Beginner's Guide to Veganism" click here
Subscribe to my EthiVegan Youtube channel – click here
For more information about me, Meet the author – click
Thanks for viewing my recipes and interviews.
Love you all.
Edward x
Edward Daniel | Servant to Humanity | Second Wave | Chef | Digital Information and Media Solicitor | Author | Poet | Presenter | Former Chair, The Vegan Society