Mushroom, Walnut and Seaweed en Croute is an alternative that I present for Christmas day. Not only is it nourishing but the seaweed brings out this umami flavour we have all come to love because its taste hits all the senses. I use Laver as the seaweed in this dish. Laver is another word for Nori. It is a seaweed. I feel seaweed is something that we do not utilise fully here in the British Isles. Not only is it rich in minerals but it is another of nature's treats that replenishes our soul – and, thing is you really don't need much seaweed in our diet. There is a lot going on with this recipe – but to be honest the effort is worth especially, if you have guests that you are looking to delight. Trust me. Alternatively, just enjoy this dish on your own.
What to do next
Tag me on @ethiveganquantum on Instagram to show me what you've made and let me know you're happy for me to share.
My recipes are featured in vegan speciality publications: Nourished, Vegan Life, Plant Based and Vegan, Food and Living.
Order my first self-published book, "Essence: The Beginner's Guide to Veganism" part of the three-part Circle of Food series. My second book "Presence: The Ascending Vegan" – which explores how to maintain a vegan practice is out in 2027 – I have compiled all the chapters including recipes.
Going strong since 2013.
Love.
Edward x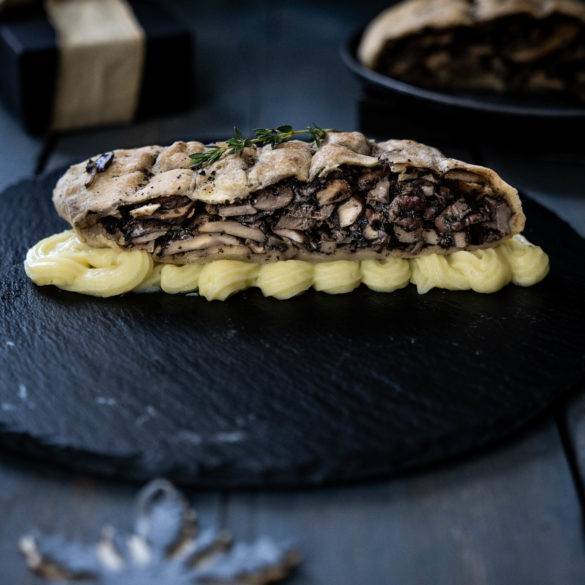 Ingredients
For pastry
300g "00" doppio flour
165ml filtered water
35ml olive oil
For filling
200g walnuts
150ml port
6 juniper berries
750g chestnut mushrooms
200g exotic mushrooms (shiitake, oyster etc) (don't worry if you can't get hold of the exotic just use the chestnut – I just add it for a bit of a kick)
4tbs olive oil
5 cloves of garlic
Few sprigs of thyme
4 bay leaves
300g potatoes, sliced thinly.
20g seaweed, dried and ground
1tbs flaxseed, ground
1tbs lemon juice
Pepper, ground
Instructions
Soak the walnuts in port over night with the juniper berries. Set to one side. Discard the juniper berries.
To make the pastry, mix together the flour, water and oil. Knead into a dough. Cover and place in the fridge until needed.
Preheat the oven to gas mark 180 digress Celsius.
Sauté the mushrooms in oil. Reduce the in size.  Cook for about 10 minutes.
Add the garlic, bay leaves, thymes and potatoes, Cover and cook over a low heat for about 30 minutes. Switch off the heat. Remove the bay leaves and thyme stems.
Add the seaweed, flaxseed, lemon juice and pepper to the mushroom mixture. Discard the potatoes. (I normally, just bake the potatoes in olive oil and a pinch of salt separately and have this as a separate dish).
Add the walnuts and port to the mushroom mixture. Set to one side.
Take the pastry out of the fridge. On a clean surface toss some flour and then proceed to roll the pastry into a large rectangle. Spoon the mushroom, walnut and seaweed mixture into the centre and fold the pastry round.
Line a large baking tray with olive oil and place parchment on top.
Place the En Croute on the baking tray and brush with olive oil. Cut in the pastry – you can do whatever shapes, but the purpose here is let out steam.
Bake for about 30 minutes until the pastry turns golden.
Serve warm.