Warming seasonal tonic with rose scented fragrance making a soothing restorative nurturing concoction; Rosehip Syrup.
Dissolve your inhibitions and resolve to live freely.
This dish will upheave any belief that vegan food can't be healthy and nutritious.
Make this:
When the cold has got the better of you. A thawing winter tonic that's just a touch more than a lemon and ginger
When you fancy seasoning your breakfasts or desserts with a warming syrup that'll adding a further dimension to your taste buds
When you're sat in front of a fire pit. A little extra kick that'll warm those coggles in no time
Rosehip Syrup was inspired when visiting the Cornish countryside. Rosehips were perched along the roadside waiting to be plucked from their thorny fronds.
This Syrup is a vegan condiment and paleo.
What equipment to use
For this recipe, I suggest:
Stove
Cheese nylon cloth or muslin bag
What to do next
Tag me on @ethiveganquantum on Instagram to show me what you've made and let me know you're happy for me to share.
My recipes are featured in vegan speciality publications: Nourished, Vegan Life, Plant Based and Vegan, Food and Living.
Order my first self-published book, "Essence: The Beginner's Guide to Veganism" part of the three-part Circle of Food series. My second book "Presence: The Ascending Vegan" – which explores how to maintain a vegan practice is out in 2027 – I have compiled all the chapters including recipes.
Cooking lessons
Sign up to Edward's Cooking lessons and by joining Edward's newsletter.
Retreats  
Elevate your cooking skills and spiritual practice by joining Edward at his retreats in Summer.
Going strong since 2013.
Love.
Edward x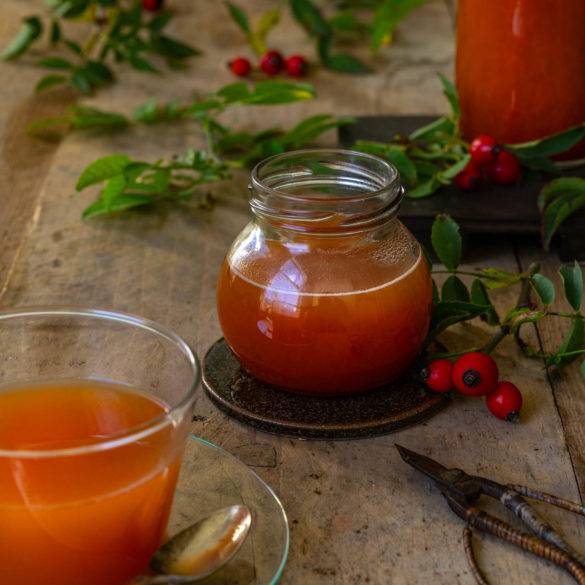 Ingredients
800g rosehips

4 litres of filtered water

400g raw unrefined cane sugar
Instructions
Place the rosehips in 2 litres of filtered water in a large saucepan. Bring to the boil and simmer over a low heat for about an 1 hour.
Using a masher roughly mash the rosehips. Add another 2 litres of filtered water and continue simmering for a further 1 hour 30 minutes. Allow to cool.
Using a muslin bag place the rosehip and syrup through into a large saucepan. Squeeze out as much of the liquid as you can.  Reserve the liquid and dispose of the pulp.
Add the sugar to the liquid. Bring to the boil and place into sterilised jars. Keep in the fridge.