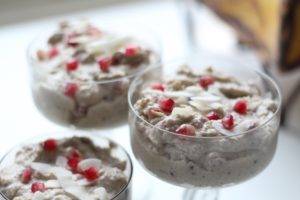 Raw Pomegranate Almond Pudding
What makes its special is the pop of the pomegranates as you take a bite. The ground almonds add further texture to this dessert. It's simple to put together and tastes scrumptious. I made this dessert for a friend of mine's 50th birthday party.
Ingredients
100g dates
250ml vegan cream (I use oat cream)
400ml vegetable yogurt (I use coconut)
¼ vanilla pod
150g ground almonds
1 pomegranate
25g coconut flakes
Instructions
Whizz the dates in a chopper until finely chopped.
Blend the dates with the cream, yogurt and vanilla pod in a blender.
Place the date mixture into a large bowl. Toss in the ground almonds and pomegranate seeds. Leave a few pomegranate seeds for garnishing.
Garnish with coconut flakes and remaining seeds.
Serve at room temperature.
Notes
Nutritional Analysis
Good points
• No cholesterol
• Low in sodium
Bad points
• High in sugar
Nutrition Information
Serving size:
181g
Calories:
368
Fat:
22g
Saturated fat:
5.6g
Trans fat:
0
Carbohydrates:
35.5
Sugar:
24.9
Sodium:
168mg
Fiber:
5.4g
Protein:
10g
Cholesterol:
0
EthiVegan by Edward Daniel
Author of "Essence: The Beginner's Guide to Veganism" to be published 2 December 2017.   It is intended to help others as they grow and find their personal brand and assist with a new way.
What price? The planet. Ethical veganism; it's a life choice.
Edward Daniel | Servant to Humanity | Second Wave | Chef | Media Solicitor | Former Chair, The Vegan Society
Subscribe to the EthiVegan Youtube channel – click here
For more information about Edward, Meet the author – click
To pre-order "Essence: The Beginner's Guide to Veganism" click here.