Chilli Wild Mushroom Risotto
This Chilli Mushroom Risotto is a take on the Classic Mushroom Risotto and is moreish. While Pocino mushrooms give the dish a woody texture, I use a handful of Oyster and Shiitake too. Shiitake Mushrooms are a source of iron.
Recipe type:
Starter, Main
Cuisine:
Vegan, Vegetarian
Ingredients
10g of dried porcini mushrooms
1.2 litres hot filtered water
3 tbsp coconut oil
2 shallots chopped
2 garlic cloves, chopped
250g chestnut mushrooms
1 red chilli, finely chopped
500g arborio rice
350ml vegan dry white wine
50g shiitake mushrooms
50g oyster mushrooms
a few sprigs of basil, chopped
25g coconut oil
salt and black pepper to taste
Instructions
Soak the porcini mushrooms in 1.2 litres of hot water for about 30 minutes. Set the porcini mushrooms. The remaining water can be used as a stock.
Heat the oil in a large, non-stick saucepan. Add the shallots and garlic. Allow the shallots to soften.
Add the chestnut mushrooms and fry for a further few minutes.
Stir in the rice and coat in the oil. Pour in the wine with the chilli. Stir regularly and simmer over a gentle heat until the liquid is absorbed.
Add the shiitake and oyster mushooms.
Ladle in the stock. Stir and simmer, until the liquid is absorbed. Continue adding the stock, until the rice is tender. This process will take about 45 minutes.
When the risotto is almost done, add the porcini mushrooms, butter, salt, pepper and basil.
Garnish with basil leaves and serve warm.
_____________________________________________________
EthiVegan by Edward Daniel
Thank you for taking the time to view my recipes, interviews and events pages.  I hope I inspire you to make these recipes and also inspire you to become very best versions of yourself.
You can follow me on Instagram here (@ethivegan) where I have quick one minute update videos and for interviews and cooking demonstrations you can subscribe to my Youtube channel here.  You can watch live cooking demonstrations by subscribing to my Facebook profile here (@ethivegan).
For more information about me – click here
See you soon.
Love.
Edward x
Edward Daniel | Vegan Chef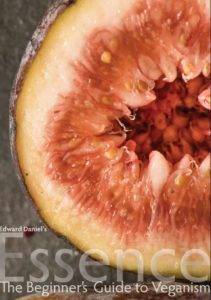 Related articles