Creamy nutty Vialone Nano rice slowly cooked with porcini and wild mushrooms in wine with oregano and thyme; Wild Mushroom Risotto.
Bite into pure ecstasy. And, take a trip to Heaven.
This dish will tumble your belief that vegan food can't be super easy to make.
Make this:
When you're fired for time, and have a marathon Board Games Day and a dish for when you return home famished
When you've just had a tough day at the office and a quick dish that tickle your fancy as you lounge on your sofa flicking through foodie magazines
When you fancy a little something special for your bestie who's just popped over for a natter and a dish that'll satiate your appetites while you talk away deep into the night
Wild Mushroom Risotto was inspired when an Italian friend, living in Lisbon at the time, invited me over for some nosh and made this delightful treat. It was his take on this dish that'll galvanised my Italian cuisine skills.
I use Vialone Nano rice though Arborio works perfectly well if you're unable to locate this locally.  Vialone Nano rice is a short-grain Italian rice and retains its shape. It gives a cream velvety risotto rice.
While Porcini mushrooms give the dish a woody texture, I use a handful of Oyster and Shiitake too. Shiitake Mushrooms are a source of iron.
Wild Mushroom Risotto is vegan and Italian cuisine.
What equipment to use
For this recipe, I suggest:
Blender
Stove
What to do next
Tag me on @ethiveganquantum on Instagram to show me what you've made and let me know you're happy for me to share.
My recipes are featured in vegan speciality publications: Nourished, Vegan Life, Plant Based and Vegan, Food and Living.
Order my first self-published book, "Essence: The Beginner's Guide to Veganism" part of the three-part Circle of Food series. My second book "Presence: The Ascending Vegan" – which explores how to maintain a vegan practice is out in 2027 – I have compiled all the chapters including recipes.
Going strong since 2013.
Love.
Edward x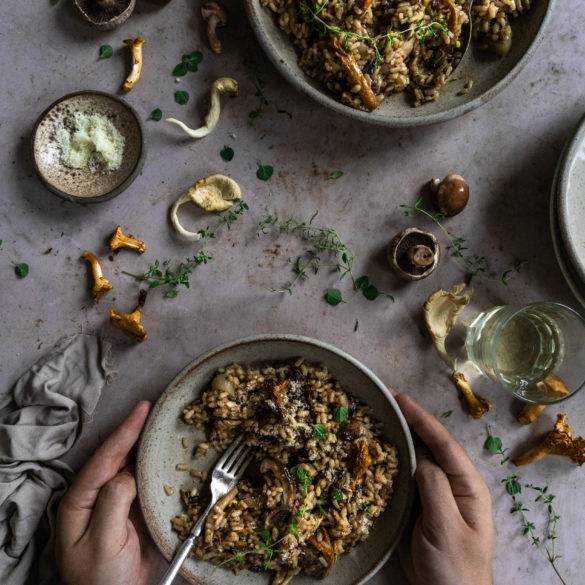 Ingredients
375g Vialone Nano risotto rice (or Arborio, if unavailable)

250g mushrooms (chestnut, shiitake, oyster or girolle(chanterelles))

15g of dried porcini mushrooms

1100ml hot filtered water

2 tbsp olive oil

1 shallot, chopped

3 garlic cloves, chopped

1tbs oregano

Few sprigs of thyme

270ml vegan dry white wine

½ lemon, juice

Season to taste
Instructions
Soak the porcini mushrooms in filtered water for about 30 minutes. Place in a blender and whizz till liquidated. Set to one side.
Heat a large non-stick pan with oil. Once hot, toss in the shallot and
sauté until translucent. Add in the garlic and rice.  Coat in oil. Use a spatula.
Pour in the wine. Add in the oregano and thyme. Stir regularly and simmer over a gentle heat until the liquid is absorbed.
Ladle in the stock a little at a time until absorbed. Continue adding the stock, until the rice is tender and a little stock remains. This process will take about 20 minutes.
When the risotto is almost done switch off the heat. Stir in the mushrooms. Season with salt and pepper. Place lid on top and leave to rest for a few minutes.
Serve the risotto. Drizzle over the lemon juice just before serving. Add, optionally, cold oil drizzled and grated vegan cheese, if needed.