Lounge with a nice cuppa. And, relish.
Moist squidgy creamy Apricot and toasted Hazelnut Cookies with blackstrap molasses, muscovado sugar, almonds, millet and oats.
This dish will eliminate any belief that vegan food can't be super yummy.
Make this:
When the kiddies are being boisterous and getting them excited in joining in the fun of making cookie dough will have them yapping as they bite into these little treats
When you've got the old biddies over for afternoon tea and a natter and some cookies that'll have them spilling the beans is much needed
When you fancy having a lazy brekkie treat before you have a thousand and one errands to start your day
Apricot and Hazelnut Cookies was inspired when playing around in the kitchen with friends visiting from afar and creating a little treat for a picnic and busy day ahead with activities.
I even made a dinky present – ideal for someone you may be dating! Apricots are an excellent source of Vitamin A and carotene.
Apricot and Hazelnut Cookies are vegan and gluten-free.
Love.
Edward x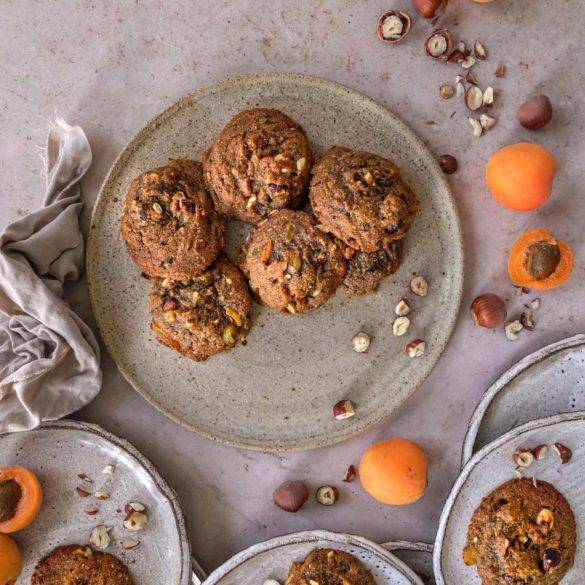 Ingredients
50g almonds, blanched

80g millet

30g flaxseeds

30g oats

50g applesauce

60g coconut oil

30g olive oil

1tbs blackstrap molasses

85g muscovado sugar

1tsp baking powder

1/2tsp guar gum

Pinch of salt

50g apricots, dried, chopped

50g hazelnuts, chopped and toasted
Instructions
Soak and cover the sour cherries in filtered water and set to one side.
In a high-speed processor grind the almonds, millet, flaxseeds, oats and salt. Transfer to a large mixing bowl.
Stir in the muscovado sugar, guar gum and baking powder.
Pour in melted coconut oil and olive oil together with the blackstrap molasses and applesauce. Combine well.
Chop and toast the hazelnuts in a dry heated frying pan for three or four minutes until they brown. Toss into the cookie mixture with the chopped apricots.
Rest the dough for an hour.
Pre-heat the oven to gas mark 180 degrees Celsius or if you have a fan oven 160 degrees Celsius.
Line large baking tray with parchment paper and oil.
Take an ice-cream scoop, and scoop out some dough. Use a knife to sweep away any excess.  Scoop onto the parchment paper. Repeat until your tray is full but make sure there is sufficient space to permit the cookies to spread out as they bake.
Bake in the oven for 10 minutes.
Remove the trays from the oven and allow the cookies to cool down before serving.
Store in a sealed container between pieces of parchment paper.