Butter Bean Marsala infused with sour tamarind-like Indian gooseberry, a touch of asafoetida, cumin and turmeric sauteed with sweet plum tomatoes sprinkled with garam marsala and Kashmiri chili's served with yoghurt and fragrant coriander leaves.
Hot and fiery or sensual and exotic take your pick… Either way, the asafoetida will give you a rise. And, fantasise.
This dish will get topple any belief that vegan food can't be super fulfilling.
Makes this:
When you're looking for a little libido boost – asafoetida will help your way to the bedroom
When you've yearning for a Indian curry fake away and a curry with unfamiliar flavours takes your fancy
When you've got the lads and you're looking for a curry to soak up the bevy
Butter Bean Marsala was inspired when eating fresh harvested scrumptious buttery butter beans when visiting an Aunt in rural Pakistan.
Butter beans grow in good compost and warm conditions.
Dry mint has an aromatic sweet smell, which I use rather than fenugreek leaves, preferring the aromatic sweet smell of the mint.
Butter Bean Marsala is vegan and Indian cuisine.
You can find
My can find my homemade garam marsala recipe here
Where I get my ingredients from
Indian gooseberry (amla) gives this dish a sour taste – a great substitute is tamarind paste, if you're unable to source locally. I source Indian gooseberry from a quaint Indian supermarket on Drummond Street in London.  Found here 
What equipment to use
For this recipe, I suggest:
High-speed blender
Oven
What to do next
Tag me on @ethiveganquantum on Instagram to show me what you've made and let me know you're happy for me to share.
My recipes are featured in vegan speciality publications: Nourished, Vegan Life, Plant Based and Vegan, Food and Living.
Order my first self-published book, "Essence: The Beginner's Guide to Veganism" part of the three-part Circle of Food series. My second book "Presence: The Ascending Vegan" – which explores how to maintain a vegan practice is out in 2027 – I have compiled all the chapters including recipes.
Going strong since 2013.
Love.
Edward x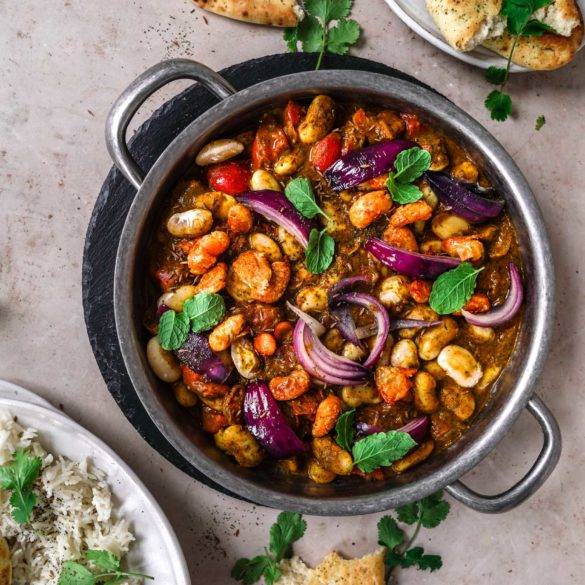 Ingredients
100g butter beans

1 medium red onion, sliced

3tbs olive oil

1 Indian gooseberry (amla)

1tbs mango powder

1tbs cumin seeds

1tbs turmeric powder

½ tsp asafoetida

1tbs mint (dried), chopped

1 tsp sweet paprika powder

½ inch ginger, minced

2 cloves of garlic, minced

175ml retained butter bean water

200g tomatoes, chopped

Season to taste

1tsp garam marsala

Pinch of Kashmiri chillies
Instructions
Soak the butter beans in filtered water overnight. Drain and place in a pressure cook with fresh filtered water.  Pressure cook for 30 minutes.  Drain the butter beans but retain the water for later.
Make the marsala by sautéing the onion in oil over a medium heat. As it turns translucent add in the Indian gooseberry, mango powder, cumin, turmeric, asafoetida, paprika, ginger, garlic.  Add in about 100ml of the retained butter bean water to make a paste.  Continue stirring.
Add in the tomatoes and the remaining water. Cook under a slow heat. A rich sauce should start developing.
Add in the butter beans and cook for at best a further 5 minutes.
Remove from heat and place in a serving dish. Sprinkle on top the garam marsala. Sprinkle over the Kashmiri chillies – each to their own.
Serve with yogurt, coriander leaves and some Indian bread.