Baked Marrow makes a wonderful addition to any repertoire. Ensure that you have a young marrow, otherwise remove the skin before use as the skin hardens with age.  I love this Baked Marrow because there is subtly in flavour to the marrow and enhanced by the juices of the lemon, tahini and molasses.
What to do next
Tag me on @ethiveganquantum on Instagram to show me what you've made and let me know you're happy for me to share.
My recipes are featured in vegan speciality publications: Nourished, Vegan Life, Plant Based and Vegan, Food and Living.
Order my first self-published book, "Essence: The Beginner's Guide to Veganism" part of the three-part Circle of Food series. My second book "Presence: The Ascending Vegan" – which explores how to maintain a vegan practice is out in 2027 – I have compiled all the chapters including recipes.
Going strong since 2013.
Love.
Edward x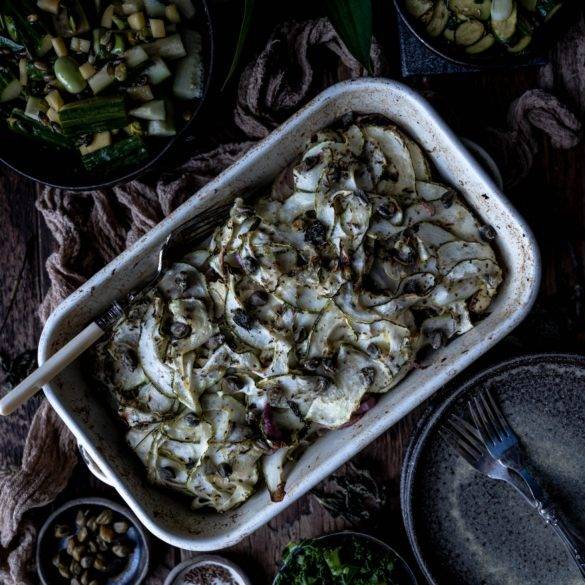 Ingredients
1kg Marrow (young, if older remove skin)
1 medium onion, chopped
6tbs olive oil
½ lemon, juice
1tbs tahini
1tbs grape molasses
1tbs caraway seeds
½ inch ginger
Few sprigs of mint
Pinch of salt
30g capers
Instructions
Preheat oven to 180 degrees Celsius.
Slice thinly the marrow and if available with a spiraliser.
Mix together the tahini, caraway seeds, 4tsb of oil, lemon juice, tahini, molasses, sees, ginger, mint and salt in a large mixing bowl.
Add in the onion and salt. And then add the marrow.
Line a large ovenproof tray with the marrow mixture. Drizzle the remaining oil.
Bake in the oven for about 30 minutes
Serve warm.