Beet Green Pesto is another one of those simple dishes using the beet green stems and leaves of beetroot. These stems and leaves are lush in colour and taste. What I love about this Beet Green Pesto is the roasted pumpkin seeds and garlic cloves. Just add pasta and you have a colourful delicious dish perfect for Spring.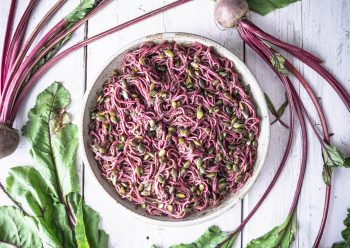 Ingredients
50g pumpkin seeds
3 cloves of garlic
2tbs olive oil
500g beet greens (beetroot leaves and stems)
50g olive oil
10g nutritional yeast
Salt and pepper
Instructions
Soak the pumpkin seeds in filtered water about 30 minutes. Drain, place in baking dish with the garlic and coat with olive oil
Pre-heat the oven to gas mark 180 degrees Celsius or if you have a fan oven 160 degrees Celsius.
Bake the pumpkin seeds for about 10 minutes, and remove. Leave the garlic to roast for a further 10 minutes. Set to one side.
In a blender, place the beet greens with the peeled garlic and half the pumpkin seeds, 50g olive oil, nutritional yeast. Whizz. Remove the beet green mixture and place in a mixing bowl with the remaining pumpkin seeds and season to taste.
Serve with pasta.
Notes
By Edward Daniel, Vegan Chef and Former Chair of The Vegan Society. Contributor to Vegan Life Magazine, Plant Based Magazine, Vegan Food and Living Magazine and OK! Magazine. Speaker and cooking demonstrator at Vegan Life Life Festival London, Mind Body and Spirit Festival London, Veganes Sommerfest Berlin, and Bali Vegan Festival. Author of "Essence: The Beginner's Guide to Veganism".