Oozing earthy cinnamon, mixed spice, blackstrap molasses, piquant ginger, buckwheat and oats cake; Yorkshire Parkin.
Tuck into something moist and soft. And, relish.
This dish will overthrow your belief that vegan food is super luscious.
Make this:
When you're flush with Bonfire celebrations, and need a lush dish as you set off the sparks
When you fancy an alternative dessert that'll have you excited about slurping that cuppa you've just made
When you've got friends over for fireworks display party and a quick cake that'll satiate their appetites is needed
Yorkshire Parkin was inspired when cooking up a treat for friends at home before having our very own fireworks display which went off with a bang.
The Story of Parkin
Traditionally, Yorkshire Parkin is made here in Britain on Bonfire night – 5 November. Though, I have made it for friends on other occasions – who love the taste of blackstrap molasses and ginger! Bonfire night, otherwise known as Guy Fawkes night, is celebrated here in the United Kingdom on 5 November each year. Dating back to 1605, it is the time when Guy Fawkes, a Yorkshireman, attempted to blow up the Houses of Parliament in London with gunpowder. His gunpowder plot may have failed, but it has ignited (forgive the pun) an annual tradition. Since then, bonfires are lit across the land to celebrate the continued safety of the Monarchy.
Borne out of Bonfire night is Yorkshire Parkin. Parkin is a traditional dark gingerbread, with a luscious soft, texture, and made with oatmeal and treacle or molasses and served on this day. This recipe for Parkin uses blackstrap molasses below. I love black molasses not only because is it a thick viscous syrup but it provides this exquisite full-bodied bittersweet flavour too. As an alternate to the molasses, you can substitute treacle. I use fresh ginger in this recipe rather than ground ginger because fresh ginger does not tend to be as potent for me.
To make this dish gluten-free, I use buckwheat. Ideally, you should keep Parkin in a stored container for about a week. This allows the Parkin to become quite chewy. The recipe below is for sticky and moist Parkin. If it is Bonfire night you are celebrating then time to grab those sparklers and get celebrating!
Yorkshire Parkin is vegan and gluten-free.
What equipment to use
For this recipe, I suggest:
High speed blender
Stove
Oven
What to do next
Tag me on @ethiveganquantum on Instagram to show me what you've made and let me know you're happy for me to share.
My recipes are featured in vegan speciality publications: Nourished, Vegan Life, Plant Based and Vegan, Food and Living.
Order my first self-published book, "Essence: The Beginner's Guide to Veganism" part of the three-part Circle of Food series. My second book "Presence: The Ascending Vegan" – which explores how to maintain a vegan practice is out in 2027 – I have compiled all the chapters including recipes.
Going strong since 2013.
Love.
Edward x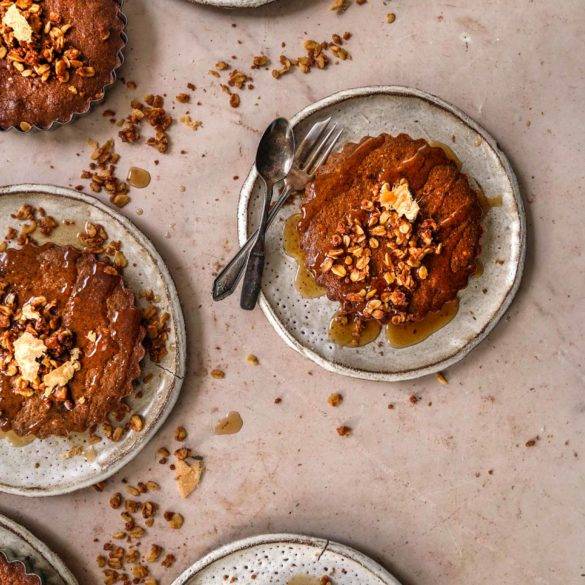 Ingredients
125g oats

125g buckwheat groats

25g flaxseeds

100g unrefined cane sugar

1 small stick of cinnamon

1tsp mixed spice

1.5inch block of ginger, finely grated

125g blackstrap molasses

160g olive oil

90ml filtered water
Instructions
Pre-heat the oven to 180 degrees Celsius or 160 degrees if convection oven.
Line a small cake tin with baking paper, after having greased the sides.
In a high-speed blender, blend the oats, buckwheat, flaxseeds, sugar and cinnamon. Blend till fine. Transfer to a large mixing bowl. Add in the mixed spice and ginger.
Gently melt the oils in a non stick pan.
Top tip – I boil the kettle and place boiling water into a glass dish. I dunk in a stainless steel spoon. This heated spoon ensures that as I take out the molasses from the jar, measure it and place into the melted butter, the molasses gently falls off the spoon. This way I do not waste any of the molasses.
Gently cook the molasses and oil, until it starts to almost boil.
Fold the molasses into the mixing bowl. Use a spatula. Add in the water.
Transfer the Parkin into the baking tin. Flatten the top of the mixture with the spatula so that it is even all over. Cover with aluminium foil.
Bake the Parkin for about 20 minutes. The Parkin is ready when you can insert a skewer and it comes out clean.
Remove the Parkin from the tin, and leave to cool, preferably on a metal slatted wrack. When it is cool, cut into squares.
Serve with a nice cup of tea.