Sun-kissed legumes scattered over creamy risotto cooked in white wine, olive oil and chopped garlic cloves; Broad Bean and Pea Risotto.
Lace yourself with something delectable while you take a plunge into the Elysium of the unknown. And, dive.
This dish will max out any beliefs that vegan food can't be super easy to rustle up.
Make this:
When you're on date #3 with your new beau/belle and want a dish that looks effortless yet is super yummy to make
When you've got a big party going on and need a dish that's quick and easy and means you can spend more time on getting ready all the extras
When its blistering outside and fancy an alfresco dinner on the balcony with a nice bottle of Waitrose white wine
Broad Bean and Pea Risotto was inspired by al fresco dining at an Italian restaurant on Primrose Hill in London with siblings as the sun caught our eyes.
Broad Bean and Pea Risotto is another of my timeless recipes. I use Carnaroli rice, a favourite amongst chefs and is more merciful than Arborio which requires vigilant attention when cooking and prone to overcooking. What I love about this risotto is the vibrant greens which look lush in Spring. A little drizzled pistachio, avocado or pumpkin seed oil is optional at serving but gives a little lift to this dish.
The hemp seed oil I use is raw cold pressed and you can get from Hempen. Check Hempen out here.
Also, I use my Vegan Stock recipe for the stock in this Risotto which check out here. Honestly, if you are pushed for time, just use hot water. The stock just adds a bit of umami texture.
Broad Bean and Pea Risotto is vegan and paleo.
What to do next
Tag me on @ethiveganquantum on Instagram to show me what you've made and let me know you're happy for me to share.
My recipes are featured in vegan speciality publications: Nourished, Vegan Life, Plant Based and Vegan, Food and Living.
Order my first self-published book, "Essence: The Beginner's Guide to Veganism" part of the three-part Circle of Food series. My second book "Presence: The Ascending Vegan" – which explores how to maintain a vegan practice is out in 2027 – I have compiled all the chapters including recipes.
Going strong since 2013.
Love.
Edward x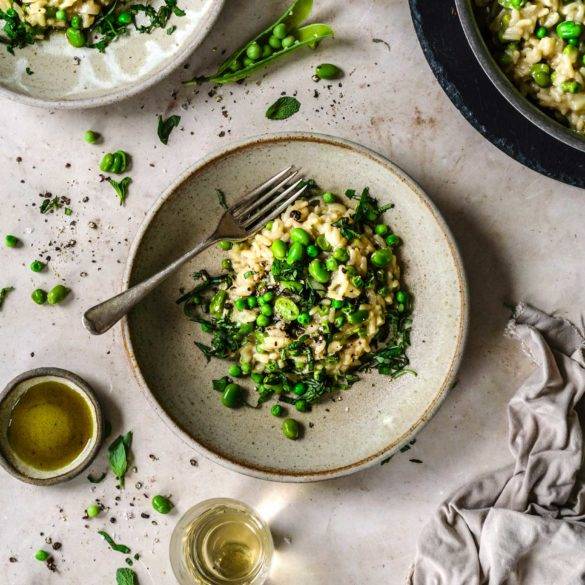 Ingredients
3tbs extra virgin olive oil

1 onion

200g Carnaroli risotto rice

3 garlic cloves, chopped

200ml dry white wine

1 litre vegan stock (link to my vegan stock recipe is above, but otherwise use hot water if you are pushed for time)

125g broad beans (or if 500g broad bean pods, fresh)

100g peas (or if 250g garden pea pods, fresh)

Pistachio, avocado or pumpkin seed oil for drizzling (optional)
Instructions
Remove the broad beans and garden peas from their pod and set to one side.
Heat the oil in a large, non-stick saucepan. Add the shallots and garlic. Allow the shallots to soften.
Stir in the rice and coat in the oil. Pour in the wine. Stir regularly and simmer over a gentle heat until the liquid is absorbed.
Ladle in the stock. Stir and simmer, until the liquid is absorbed. Continue adding the stock, until the rice is tender. This process will take about 25 minutes.
When the risotto is almost done switch off the heat. Season with salt and pepper. Add the broad beans and garden peas. Place lid on top and leave to rest of a couple of minutes.
Serve the risotto drizzled with a little cold oil over each serving and crushed peppercorns.