Brussels Sprout Brazil Nut Stuffed Portobello Mushrooms I love because the nuts, garlic, lime and cinnamon add texture and depth to the Brussels Sprouts.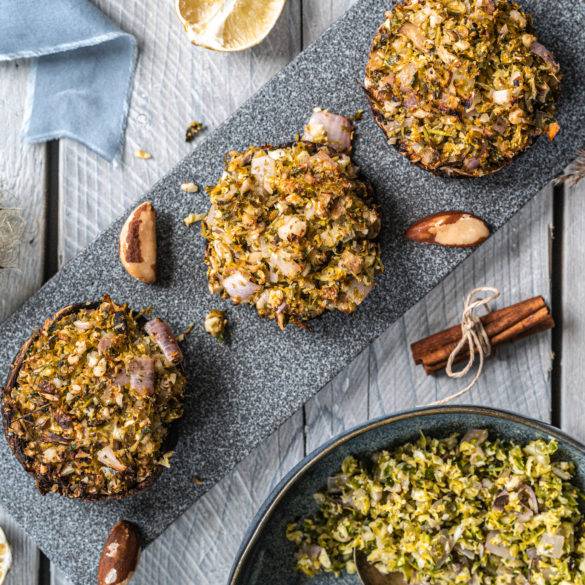 Ingredients
4 large Portobello mushrooms
2 shallots chopped
2tbs extra virgin coconut oil
2 cloves of garlic
200g Brussels sprouts
Few sprigs of parsley
50g Brazil nuts
½ lime, juice
¼ cinnamon stick, chopped finely
Salt and pepper to taste
Extra virgin olive oil for drizzling
Instructions
Pre-heat oven to gas mark 180 degrees Celsius or if a convention oven to 160 degrees Celsius.
Cut the stem off of the mushrooms. Baste the underside of the bulbs with olive oil and leave to one side.
Sauté the shallot with the garlic in coconut oil until the shallots turn translucent.
Chop the Brussels sprouts and parsley. (I use a chopper for these herbs). Add to the shallot mixture with the stem of the mushroom and cook for about 3 to 4 minutes. Set to one side.
Add the Brazil nuts and lime to the mixture and season to taste.
Use hands to scoop Brussels sprout mixture into the bulbs.
Drizzle over the olive oil. Sprinkle on the cinnamon.
Cook in the oven for about 20 minutes until the mushrooms soften.
Serve warm.
Notes
By Edward Daniel, Vegan Chef and Former Chair of The Vegan Society. Contributor to Vegan Life Magazine, Plant Based Magazine, Vegan Food and Living Magazine and OK! Magazine. Speaker and cooking demonstrator at Vegan Life Life Festival London, Mind Body and Spirit Festival London, Veganes Sommerfest Berlin, and Bali Vegan Festival. Author of "Essence: The Beginner's Guide to Veganism".