Grated carrots dehydrated in an almond date cream littered with sundried raisins and sprinkled with chopped pistachios; Carrot Halva.
Devour something wholesome that'll satiate your senses… And, transform.
This dish will burst your belief that vegan food can't be made with easily accessible ingredients already in your pantry.
Make this:
When you know you've got a busy schedule at work and want to come home to a dessert that'll help you unwind – with no added sugars
When it's the weekend and the kids are running round playing, and want a dessert that'll give them a boost of energy but be a little healthy for them too
When you've got an Indian curry night with the boys and fancy need a dessert that'll round off the event
Carrot Halva was inspired by my mum's cooking. She make the cooked version, with grated carrots cooked slowly over the stove with cream, and the carrots would melt and merge into the cream – the carrots would all reduce in size giving this lush rich orange-carrot colour.  The cream was flavoured with cane sugar and sundried raisins and served topped with pistachios.
Carrot Halva is a carrot-based confection from the Indian subcontinent. It was first made during the Mughal era. It's served usually at festivals and weddings because it is simply divine. "Halva" is Arabic meaning sweet.
This Carrot Halva has flavours integrating while sitting in the fridge before dehydrated to give that rich orange glow.
Carrot Halva is vegan and raw.
What to do next
Tag me on @ethiveganquantum on Instagram to show me what you've made and let me know you're happy for me to share.
My recipes are featured in vegan speciality publications: Nourished, Vegan Life, Plant Based and Vegan, Food and Living.
Order my first self-published book, "Essence: The Beginner's Guide to Veganism" part of the three-part Circle of Food series. My second book "Presence: The Ascending Vegan" – which explores how to maintain a vegan practice is out in 2027 – I have compiled all the chapters including recipes.
Going strong since 2013.
Love.
Edward x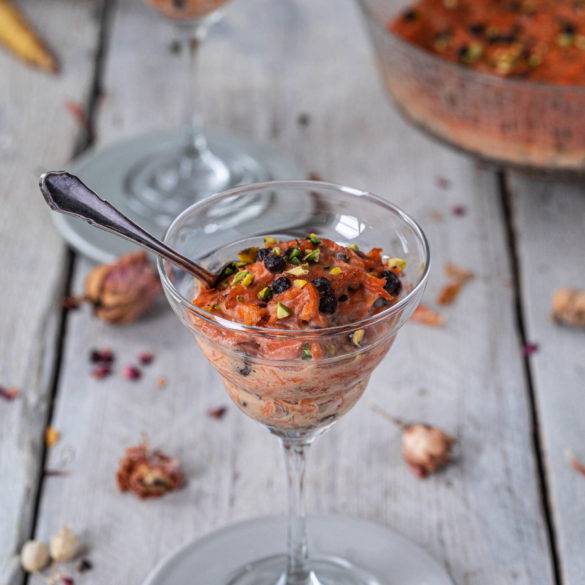 Ingredients
400g carrots

100g almonds, blanched

100g dates

3 cardamoms

500ml filtered water

Pinch of salt

100g raisins

25g pistachios, roughly chopped
Instructions
Place the raisins in filtered water and set aside.
Grate the carrots in a large mixing bowl and transfer to a serving dish. Add in the raisins.
Place the almonds, cardamon seeds, dates, salt and water in a blender and whizz to a creamy texture. Pour over the carrots and raisins.  Refrigerate overnight.
Place in a dehydrator for 8 hours, turning regularly.
When ready to serve garnish with the pistachios and serve chilled.