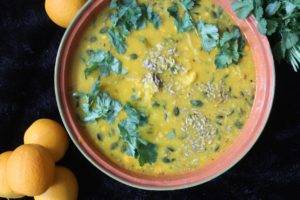 Cassava and Orange Peel Curry
Recipe: Cassava and Orange Peel Curry Cassava and Orange Peel Curry takes me back to an awesome food demonstration undertaken by Marta and her colleague at Snact. This recipe is a tribute to her because of the inspiration it gave me to create this recipe. I wanted to use Orange Peel as traditionally we just tend to discard this. The recipe was actually made as a tribute to Limehouse Pride Picnic 2017 organised by my friends Dani, Sammi and Eve – awesome people and great event. https://www.ethivegan.com/recipe-cassava-orange-peel-curry-vegan-vegetarian-paleo-paleovegan/
Cuisine:
Vegan, Vegetarian, Paleo, Paleovegan
Ingredients
50g sunflower seeds
100g pumpkin seeds
500g cassava, shredded
1kg filtered water
1 inch turmeric, grated (or alternatively, 1tbs turmeric powder)
3tbs olive oil
2 shallots
1tbs coriander seeds
2 oranges
1tsp harissa paste (optional)
bunch of coriander leaves
Instructions
Soak the pumpkin seeds and sunflower seeds in filtered water.
Cut the oranges in two and squeeze out the juice. Place the remaining peel in a chopper and chop finely. Set the juice to one side.
Place the orange peel with the cassava in filtered water over a medium heat. Bring to boil and simmer for about 25 minutes until the cassava forms into a glutinous source. Set to one side.
In a frying pan place the turmeric with the olive oil to form a sauce. Cook over a low heat for three or four minutes. Add the shallots with the coriander seed and sauté until the coriander seeds start to golden. Add to the orange peel and cassava mixture.
Drain the seeds and add to the mixture too. Add the orange juice too to the mixture. Roughly mix.
Season to taste. Add the harissa at this stage, if you feel so inclined...
Garnish with coriander leaves and serve.
EthiVegan by Edward Daniel
What future would you like to paint? What I say is that it is possible to lead a fulfilling life by going within, living in alignment, letting go of the past and thriving on a vegan diet.
If you want to uncover your purpose and live a more enriching life, why not purchase my book "Essence: The Beginner's Guide to Veganism"?
To order your copy of "Essence: The Beginner's Guide to Veganism" click here
Subscribe to my EthiVegan Youtube channel – click here
For more information about me, Meet the author – click
Thanks for viewing my recipes and interviews.
Love you all.
Edward x
Edward Daniel | Servant to Humanity | Second Wave | Chef | Media IT IP Solicitor | Author | Presenter | Former Chair, The Vegan Society