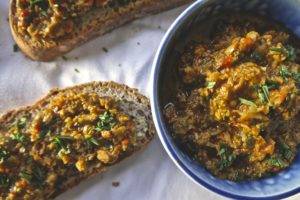 Green Olive and Pepper Tapenade
Green Olive and Pepper Tapenade makes a great starter and accompaniment to any dish. What I love is about this dish is the cayenne pepper and vinegar really enhance the distinctive taste of the olives and capers and the subtle flavours of the peppers.
Recipe type:
Side, Starter
Cuisine:
Vegan, Wholefoods, Paleovegan, Paleo
Ingredients
2 red peppers
2tbs olive oil
180g green olives
50g capers
1tbs vinegar
few sprigs of thyme
pinch of cayenne pepper
Instructions
Preheat oven to 170 degrees Celsius.
In a small roasting tray place the peppers and baste with the oil. Roast for about 30 minutes until the skin of the peppers starts to blacken. Remove from the oven and set aside to cool.
Remove and discard the skin of the peppers. Reserve the liquid and place with the peppers and remaining ingredients into a food processor. Whizz until the ingredients are roughly chopped.
Serve.
_____________________________________________________
EthiVegan by Edward Daniel
Thank you for taking the time to view my recipes, interviews and events pages.  I hope I inspire you to make these recipes and also inspire you to become very best versions of yourself.
You can follow me on Instagram here (@ethivegan) where I have quick one minute update videos and for interviews and cooking demonstrations you can subscribe to my Youtube channel here.  You can watch live cooking demonstrations by subscribing to my Facebook profile here (@ethivegan).
For more information about me – click here
See you soon.
Love.
Edward x
Edward Daniel | Vegan Chef