It seems like a millennium since I was non-vegan. Normally, brioche calls for eggs, but really, I do not think this dish really needs it. It tastes just as equally scrumptious without it. I enhanced this dish in 2019, experimenting with sourdough and so this is now an updated version of the dish.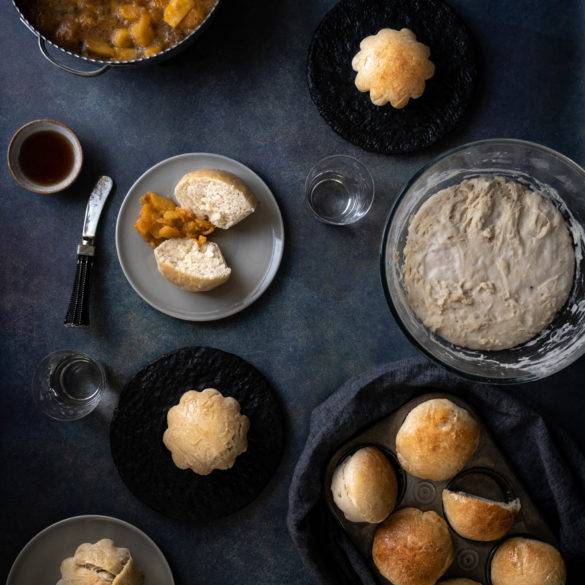 Ingredients
50g sourdough starter
50g flour
50ml water
400g "00" doppio flour
175ml vegan yoghurt
2tbs coconut oil
Salt
Maple syrup for glazing
Instructions
The night before you plan to make your dish, combine the starter with the flour and water for the starter build. Cover with a cloth overnight and leave at room temperature.  Here, the yeast is activating.
The following day, and take a separate bowl and mix the remaining flour with yoghurt. Use your hands.  Cover with a damp cloth and leave to autolyse for about half an hour to an hour.
Add, the starter build to the flour and water mix. Mix well. Cover with the damp cloth and set to one side for another hour.  The dough should start to bubble; the fermentation process is beginning.
Leave to prove at room temperature for a couple hours. Every now and then fold the dough.  Knead in a tablespoon of coconut oil and a pinch of salt.
Line a large bowl with 1-tablespoon of coconut oil. Remove the dough from the bowl and coat with the oil. Leave to one side for about 2 hours.
Knead the risen dough with both hands for about 10 minutes. Separate the dough into 10 balls and place in an oven proof dish. Allow to stand for a further 1 hour.
Top tip – the dough should have expanded to two times its original size.
Preheat oven to 180 degrees Celsius.
Boil a kettle and place a tray full of water below the shelf where you are planning to place your bread.
Cover the bread with parchment paper or foil and bake in the oven for about
15 minutes. About 10 minutes into the baking, using a pastry brush, glaze the surface of the brioche with maple syrup. The brioche is done when you are able to slide a skewer into the bread and it comes out clean.
Once cooked, place on a wired rack and leave to cool for about 20 minutes, when it is then ready to serve.
Remove and set aside. Serve warm or cold on its own or if you fancy with some nice jam.