Guzzle down something sweet, moist yet crumbly in your orifice. And, dissolve.
Chewy succulent Mulberry with caramelly aromatic Chocolate in an earthy cake with lashings of tropical coconut
This dish will tumble any beliefs that vegan food can't be super yummy.
Make this:
When you've got an afternoon tea party organised and want something fancy that looks and tastes the biz
When you've got the kids luncheon to zing and want a little cake treat to go with it
When you've got a picnic to attend and want something bite sized for your cohort as you play a touch of rounders
Mulberry and Chocolate Cake was inspired when visiting a tiny teashop in Halifax in the heart of Yorkshire and being tantalised by the array of gorgeous scrumptious pastries.
Since Roman times human have eaten mulberries in abundance with the leaves and berries being a staple food for wildlife. The mulberry trees thrive in temperate climates of Asia, Europe and Middle East.  Folklore suggests that if you dream of the mulberry tree it is a premonition of changing homes, perhaps an opportunity might present itself.
In any event, mulberries are high in antioxidants assisting in the elimination of free radicals and boosts the immune system. It's also high in vitamin K which helps fight bone degradation.
Mulberry and Chocolate Cake is vegan and gluten-free
Love.
Edward x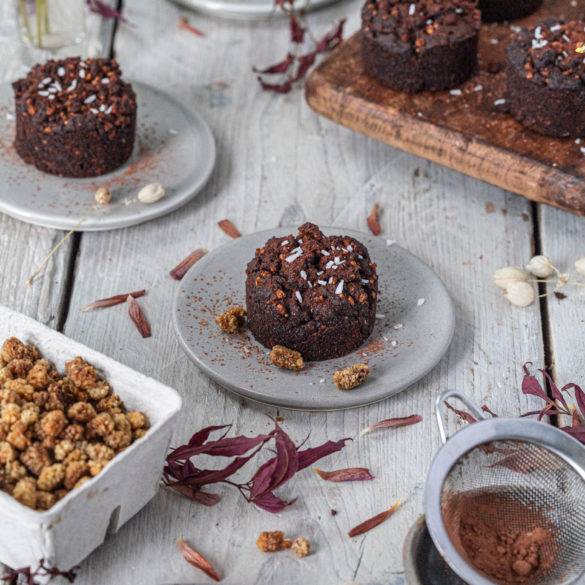 Ingredients
150g mulberries

50g cocoa powder

50g desiccated coconut

150g millet

120g raw unrefined cane sugar

25g oats

25g flaxseeds, ground

40g tapioca flour

2tbs baking soda

Pinch of salt

120ml olive oil

110ml filtered water

2tsp vanilla extract

½ lemon, juice
Instructions
Pre-heat the oven to gas mark 180 degrees Celsius or if you have a fan oven 160 degrees Celsius.
Place the millet, oats, flaxseeds, sugar and salt in a blender and blend finely. Place in a mixing bowl.  Add in the tapioca flour.
Stir in the water and vanilla extract and mix. Then add in the oil. Use a spatula.
Add in the baking soda.
Then add in the lemon juice but to do not over mix.
Line a 12-mini baking tray with oil. Evenly distribute the cake mixture.
Bake in the oven for around 20 minutes. Make sure a skewer runs cleanly through to ensure that it is done.  Allow to cool and set aside.