Mushrooms cooked in white wine and almond cream flavoured with smoked paprika, umami tamari and wholegrain mustard; Mushroom Stroganoff.
Indulge in something creamy that'll get you yearning for more. And, burn.
This dish will shatter any beliefs that vegan food can't be fulfilling and nourishing.
Make this:
When you're reminiscent for past school dinners and want a veganised version that'll have you nostalgic
When you've had a busy day at work and need a simple quick and easy dish that'll have you satisfied
When you've got the lads over for poker night and a wholesome dish that evokes the past
Mushroom Stroganoff was inspired by childhood memories of eating and yapping in school cafeterias with friends.
Stroganoff has its origins in Russia; a sour cream and mustard sauce. It's origin is lost in history but is said to have been created by a French Chef competing for a competition for the prominent the Russian Stroganov family.
Mushroom Stroganoff is vegan and gluten-free.
What equipment to use
For this recipe, I suggest:
Stove
What to do next
Tag me on @ethiveganquantum on Instagram to show me what you've made and let me know you're happy for me to share.
My recipes are featured in vegan speciality publications: Nourished, Vegan Life, Plant Based and Vegan, Food and Living.
Order my first self-published book, "Essence: The Beginner's Guide to Veganism" part of the three-part Circle of Food series. My second book "Presence: The Ascending Vegan" – which explores how to maintain a vegan practice is out in 2027 – I have compiled all the chapters including recipes.
Going strong since 2013.
Love.
Edward x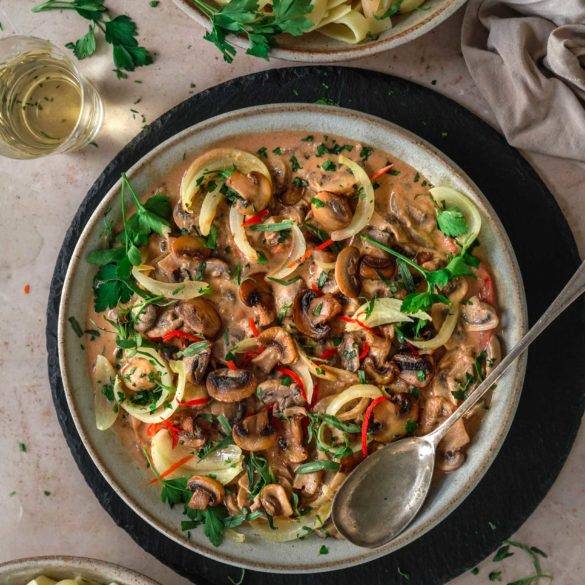 Ingredients
2tbs extra virgin olive oil

1 onion, finely chopped

2 cloves garlic, crushed

600g button mushrooms chopped

100g mixed wild mushrooms; shiitake, oyster and maitake

200ml vegan white wine

1 pepper

1 tomato

1tsp smoked paprika

1tbs tamari

1tsp wholegrain mustard

Season to taste

For Roux

30g vegan butter

1tbs potato start

100ml water

For cream

50g blanched almonds

100ml filtered water

Garnish

Few sprigs of tarragon

Few sprigs of parsley
Instructions
To make the cream, firstly, blanch the almonds. Place in a bowl and pour over boiling water. Leave for a few minutes. Remove the skin. Transfer to a high-speed blender. Pour in 100ml filtered water. Whizz till it forms a cream. Set to one side.
In a large saucepan, sauté the onion in oil until it turns translucent.
Pour in the wine, mushrooms, pepper, tomato and garlic and cook on a medium heat for about 5 minutes until the mushrooms reduce in size.
In another pan, make the roux by melting the butter and adding in the potato flour. Use a spatula to stir. Cook over a low to medium heat. The roux should thicken. Pour in 100ml water. Continuing stirring. Finally, add in the cream. A thickened sauce should form.
To the stroganoff pour in the cream mixture. Add in the paprika, tamari and mustard too.  Simmer for a further 5 minutes.
Switch off once it starts to form a creamy texture.
Season to taste.
Garnish with parsley and tarragon.
Serve with pasta or rice.