Salmon-alt Papaya Gravlax marinaded in crushed juniper berries, smoked paprika and Arctic Sea salt. A touch of the Nordics straight to you.
Guzzle something soft and slick down your gut.
This dish will topple your belief that vegan food can't be simple to rustle up.
Make this:
When you're wanting canapés on the go and you've got guests to wow at your soiree!
When you've got the in-laws over for the weekend and you're wanting a create a massive impress
When you're wanting to create a magical private evening with your other half and nothing but the bees knees will do and who knows where you'll end up… Don't say I didn't warn you…
Papaya Gravlax was inspired when wanting an alternative to salmon gravlax; with a salt and sugar brine and additional juniper berries.
Papaya Gravlax is raw vegan seafood, and paleo too. 
What equipment to use
For this recipe, I suggest:
Spiraliser
Dehydrator
What to do next
Tag me on @ethiveganquantum on Instagram to show me what you've made and let me know you're happy for me to share.
My recipes are featured in vegan speciality publications: Nourished, Vegan Life, Plant Based and Vegan, Food and Living.
Order my first self-published book, "Essence: The Beginner's Guide to Veganism" part of the three-part Circle of Food series. My second book "Presence: The Ascending Vegan" – which explores how to maintain a vegan practice is out in 2027 – I have compiled all the chapters including recipes.
Going strong since 2013.
Love.
Edward x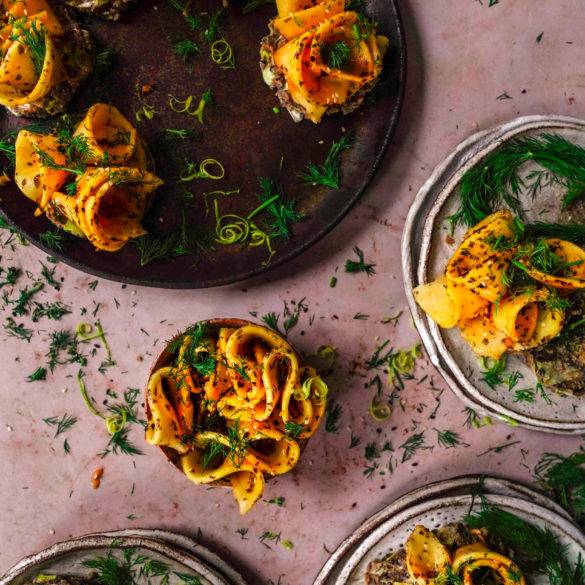 Ingredients
500g papaya, skinned

For marinade

1tbs nori/laver

1tbs apple cider vinegar

1tbs maple syrup

1tbs sesame seed oil

1/2tsp smoked paprika

Pinch of sea salt

½ lime

4 crushed juniper berries

Garnishing

Few sprigs of dill
Instructions
Make the marinade by combining the marinating ingredients in a mixing bowl.
Either use a knife or a spiraliser to cut thin slithers of papaya.
Marinade the papaya for about an hour.
Lay the papaya flat on the dehydrating sheets and dehydrate for about 1 hour.
Retain the marinade for dressing but remove the juniper berries.
Serve the papaya with crackers or whatever you prefer. Garnish with dill and gently dress the papaya with a little of the marinade.