Guzzle something soft and slick down your gut.
Salmon-alt Papaya Gravlax marinaded in crushed juniper berries, smoked paprika and Arctic Sea salt. A touch of the Nordics straight to you.
This dish will topple your belief that vegan food can't be simple to rustle up.
Make this:
When you're wanting canapés on the go and you've got guests to wow at your soiree!
When you've got the in-laws over for the weekend and you're wanting a create a massive impress
When you're wanting to create a magical private evening with your other half and nothing but the bees knees will do and who knows where you'll end up… Don't say I didn't warn you…
Papaya Gravlax was inspired when wanting an alternative to salmon gravlax; with a salt and sugar brine and additional juniper berries.
Papaya Gravlax is vegan, raw and paleo.
Love.
Edward x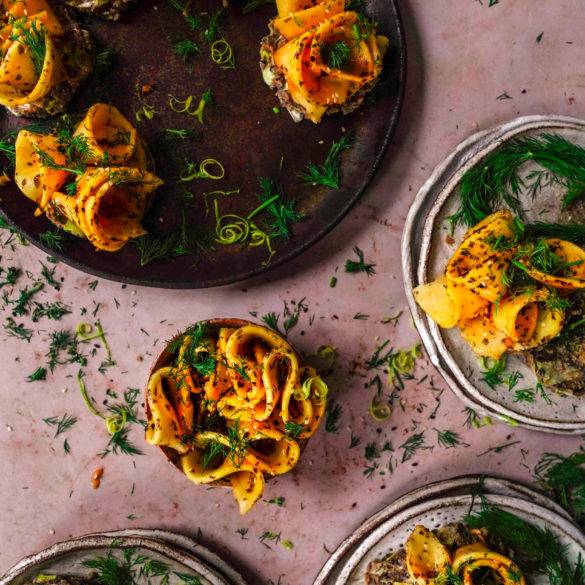 Ingredients
500g papaya, skinned

For marinade

1tbs nori/laver

1tbs apple cider vinegar

1tbs maple syrup

1tbs sesame seed oil

1/2tsp smoked paprika

Pinch of sea salt

½ lime

4 crushed juniper berries
Instructions
Make the marinade by combining the marinating ingredients in a mixing bowl.
Either use a knife or a spiraliser to cut thin slithers of papaya.
Marinade the papaya for about an hour.
Lay the papaya flat on the dehydrating sheets and dehydrate for about 1 hour.
Retain the marinade for dressing but remove the juniper berries.
Serve the papaya with crackers or whatever you prefer. Garnish with dill and gently dress the papaya with a little of the marinade.