Polpette di Melanzane (Sicilian Aubergine Balls) is a take on a Sicilian Aubergine dish. It makes a great vegan and vegetarian alternative to meatballs. Who needs meat when you have this dish. I serve this dish with a simple tomato, shallot and herb sauce.
What to do next
Tag me on @ethiveganquantum on Instagram to show me what you've made and let me know you're happy for me to share.
My recipes are featured in vegan speciality publications: Nourished, Vegan Life, Plant Based and Vegan, Food and Living.
Order my first self-published book, "Essence: The Beginner's Guide to Veganism" part of the three-part Circle of Food series. My second book "Presence: The Ascending Vegan" – which explores how to maintain a vegan practice is out in 2027 – I have compiled all the chapters including recipes.
Going strong since 2013.
Love.
Edward x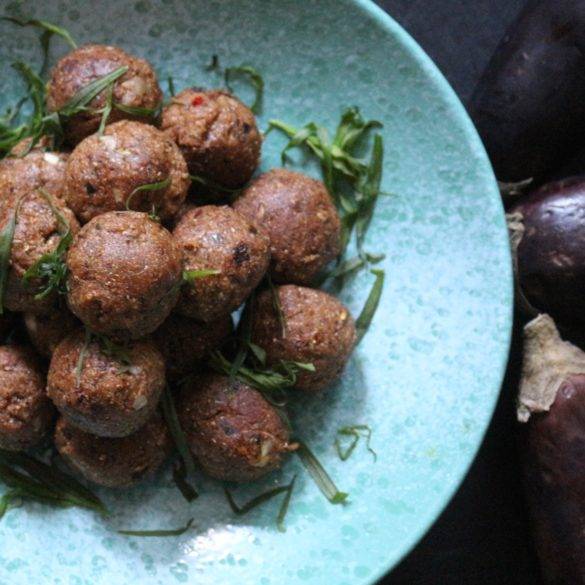 Ingredients
2 aubergines
1tbs coconut oil
30g porcini mushrooms
30g sundried tomatoes
8tbs filtered water
2tbs virgin olive oil
1 lemon juice
2tbs flaxseeds, ground
2tbs cumin seeds, ground
2 shallots, chopped
25g tarragon
2tbs mint
225g breadcrumbs
salt and pepper
1 chili (optional)
virgin olive oil for frying
Instructions
Preheat the oven to gas mark 180 Celsius.
Soak the mushrooms and tomatoes in the water. Set to one side.
Heat the aubergines in oil in a large saucepan. Use a pair of tongues to turn the aubergines. Keep turning until the skin starts to blister.
Transfer the aubergines into an ovenproof dish. Bake in the oven for about 30 minutes. Remove from the oven. Cool and set to one side. Remove and discard the skin.
In a large bowl place mix together oil, juice, flaxseeds, cumin seeds, shallots, tarragon and mint.
Place the aubergines in a food processor and roughly chop. Place into the linseed mixture.
Drain the water into the aubergines mixture. Roughly chop mushroom and tomatoes and tip in too. Mix well. Add the breadcrumbs. Season to taste. Add the chopped chili.
Using your hands knead into a dough. Use both hands to break off the dough and gently shape into small round balls. Set to one side
When ready to serve sauté the balls and lightly brown. Serve immediately.