Carrot and Pistachio Halva is one those simple flavoured desserts. This halva becomes even more flavoursome as it sits in the fridge over time. The flavours just integrate, nature just does its course.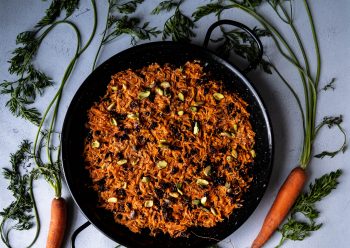 Ingredients
500g carrots
50g oats
500ml filtered water
100g raisins
25g pistachios, roughly chopped
Instructions
Place the raisins in filtered water and set aside.
Grate the carrots in a large mixing bowl and transfer to a serving dish. Add in the raisins.
Place the oats in a blender and grind. Add the water to form a smooth liquid. Pour over the carrots and raisins.
Place in a dehydrator for 6 hours.
Remove and leave to set in the fridge for 48 hours until the flavours have integrated.
When ready to serve garnish with the pistachios and serve chilled.