Marsala soaked raisins, pine nuts, walnuts and rosemary with a drizzle of olive oil to make a moist unleavened Tuscan Chestnut Cake; Castagnaccio.
Indulge in a dessert that will have all nut and herbed out. And, pucker.
This dish will overcome any belief that vegan food can't be supper tasty.
Make this:
When you're far from Tuscany and need a little reminder of your trip there and the wonderful time you spent there
When you've got an Italian meal, all prepped up and need a compact dessert that'll polish the evening off quite nicely
When you're laden with fresh chestnut and an ancient Tuscan dessert that'll have you smiling cheek to cheek as you relax a little further into the sofa
Tuscan Chestnut Cake – Castagnaccio was inspired when staying in Florence and visiting one of the traditional Italian pasticceria (pastry shop) and indulging in handmade Italian pastry.
Tuscan Chestnut Cake is a rustic peasant dessert, traditionally made in late Autumn after chestnuts are dried and turned into flour.  Although, it is a dense cake, it's a naturally gluten-free.
Castagnaccio, Tuscan Chestnut Cake is traditionally not a sweet dessert but the chestnut flour gives this dish a unique exquisite taste, particularly when you bite into the nuts and fruits.  It is like a plethora of lush flavours vying for attention.
Tuscan Chestnut Cake; Castagnaccio is vegan and gluten-free.
What to do next
Tag me on @ethiveganquantum on Instagram to show me what you've made and let me know you're happy for me to share.
My recipes are featured in vegan speciality publications: Nourished, Vegan Life, Plant Based and Vegan, Food and Living.
Order my first self-published book, "Essence: The Beginner's Guide to Veganism" part of the three-part Circle of Food series. My second book "Presence: The Ascending Vegan" – which explores how to maintain a vegan practice is out in 2027 – I have compiled all the chapters including recipes.
Going strong since 2013.
Love.
Edward x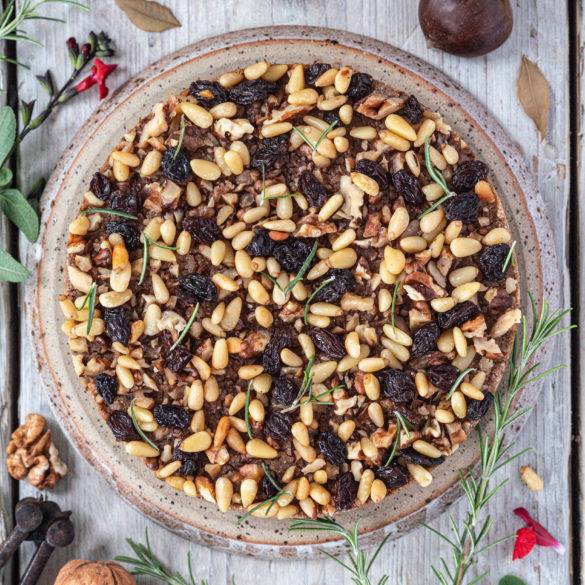 Ingredients
25g raisins

25ml Marsala wine

1 sprig of rosemary

250g chestnut flour

250ml water

3tbs olive oil

Pinch of salt

50g raw unrefined cane sugar

25g pine nuts

25g walnuts, chopped
Instructions
Preheat oven to gas mark 180 degrees Celsius or if a convection oven to 160 degrees Celsius.
Soak the raisins in Marsala wine and set to one side.
Soak the rosemary leaves in water and set to one side.
Grind the sugar and salt and transfer to a large mixing bowl.  Add in the chestnut flour and mix well.
Pour in the water and oil and combine well.
Lightly line a 7-inch cake tin with oil and then line the base with parchment paper.
Pour the dough onto the cake tin.  Garnish with the walnuts, pine nuts and raisins.
Boil a kettle and place a tray full of water below the shelf where you are planning to place your cake.
Cover the cake with parchment paper or foil and bake in the oven for about 30 minutes.
Remove and set aside.  Garnish with the rosemary leaves.
Serve warm or cold.