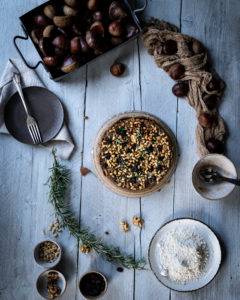 Tuscan Chestnut Cake - Castagnaccio
Castagnaccio, Tuscan Chestnut Cake is traditionally not a sweet dessert but the chestnut flour gives this dish a unique exquisite taste, particularly when you bit into the nuts and fruits. It is like a plethora of lush flavours vying for attention.
Recipe type:
Dessert, Cake
Cuisine:
Vegan, Paleo, Palovegan
Ingredients
25g raisins
Marsala wine
1 sprig of rosemary
250g chestnut flour
250ml water
3tbs olive oil
Pinch of salt
2tbs maple syrup
25g pine nuts
25g walnuts, chopped
Instructions
Preheat oven to gas mark 180 degrees Celsius.
Soak the raisins in Marsala wine and set to one side.
Soak the rosemary leaves in water and set to one side.
In a mixer combine the chestnut flour with the water. Add the oil and then the salt and maple syrup.
Lightly line a 7-inch cake tin with oil and then line the base with parchment paper.
Pour the dough onto the cake tin. Garnish with the walnuts, pine nuts and raisins.
Boil a kettle and place a tray full of water below the shelf where you are planning to place your cake.
Cover the cake with parchment paper or foil and bake in the oven for about 30 minutes.
Remove and set aside. Garnish with the rosemary leaves.
Serve warm or cold.
_____________________________________________________
EthiVegan by Edward Daniel
Thank you for taking the time to view my recipes, interviews and events pages.  I hope I inspire you to make these recipes and also inspire you to become very best versions of yourself.
You can follow me on Instagram here (@ethivegan) where I have quick one minute update videos and for interviews and cooking demonstrations you can subscribe to my Youtube channel here.  You can watch live cooking demonstrations by subscribing to my Facebook profile here (@ethivegan).
For more information about me – click here
See you soon.
Love.
Edward x
Edward Daniel | Vegan Chef