Rose Coco Bean Aubergine Stew
This hearty stew, is something that is a favourite amongst my friends and goes down exceptionally well, particularly with smoked paprika as one of its fine ingredients. I serve this dish with rice or cous cous. Rose Coco Beans are part of the Indian staple diet and it is rich in soluble fibre, aiding in the reduction of blood sugar levels. Aubergine is a good source of potassium too.
Cuisine:
Vegan, Vegetarian
Ingredients
200g Rose Coco Beans, soaked in water for 48 hours beforehand, washed a couple of times during the soaking process
1 aubergine, sliced, placed in colander (with a bowl underneath) and dusted with sea salt
1 onion, diced
4 tablespoons of rapeseed oil and sufficient oil for frying the aubergine
400g plum tomatoes
1 teaspoon of smoked paprika
Season to taste
For vegetable stock
1 litre filtered water
1 potato, peeled and diced
2 carrots, sliced
2 sticks of celery, sliced
Instructions
To make the stock, place the potato, carrots and celery with water into a medium pan. Bring to the boil and simmer gently for about 30 minutes. Remove from the heat. Drain and keep the liquid but discard these vegetables.
In a pressure cooker, add the rapeseed oil and onion. Cook the onion until it softens.
Add the rose coco beans, vegetable stock, paprika and tomatoes, and place under pressure for 15 minutes – this allows the beans to be thoroughly cooked.
Dry the aubergine with a kitchen towel and shallow fry in rapeseed oil, until golden on either side.
Add the aubergine and cook for another 5 minutes.
Season to taste.
_____________________________________________________
EthiVegan by Edward Daniel
Thank you for taking the time to view my recipes, interviews and events pages.  I hope I inspire you to make these recipes and also inspire you to become very best versions of yourself.
You can follow me on Instagram here (@ethivegan) where I have quick one minute update videos and for interviews and cooking demonstrations you can subscribe to my Youtube channel here.  You can watch live cooking demonstrations by subscribing to my Facebook profile here (@ethivegan).
For more information about me – click here
See you soon.
Love.
Edward x
Edward Daniel | Vegan Chef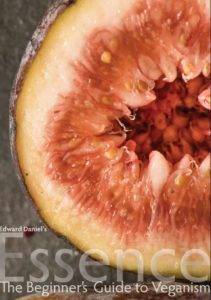 Related articles