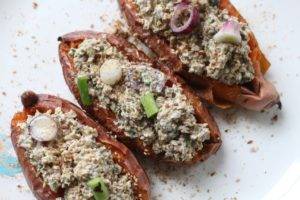 Recipe: Baked Sweet Potatoes with Walnut Three Seed Filling
Recent posts of sweet potatoes I saw on friend's posts inspired this Baked Sweet Potatoes recipe; I wanted to create something filling and nourishing using ingredients I could find in my pantry.
Cuisine:
Vegan, Vegetarian, Paleo, Paleovegan
Ingredients
4 medium sized sweet potatoes
2tbs coconut oil
50g pumpkin seeds
50g sesame seeds
50g sunflower seeds
50g walnuts
100ml oat cream
1tbs tahini paste
2 spring onions
salt and pepper to season
Instructions
Preheat oven to gas mark 180 degrees Celsius.
Soak the seeds and walnuts in filtered water.
Place the sweet potatoes in an ovenproof dish. Using a pastry brush, brush over the coconut oil. Bake in the oven for about 30 minutes until you are able to slide a knife through the potato with ease. Set to one side.
Drain the water from the seeds and walnuts. Place into a food processor and whizz with the cream and tahini paste. Season to taste.
Serve the sweet potatoes with the filling.
Nutrition Information
Calories:
602cal
Fat:
40g
Carbohydrates:
45g
Sugar:
11g
Sodium:
420mg
Protein:
16g
EthiVegan by Edward Daniel
Author of "Essence: The Beginner's Guide to Veganism" to be published 2 December 2017.   It is intended to help others as they grow and find their personal brand and assist with a new way.
What price? The planet. Ethical veganism; it's a life choice.
Edward Daniel | Servant to Humanity | Second Wave | Chef | Media Solicitor | Former Chair, The Vegan Society
Subscribe to the EthiVegan Youtube channel – click here
For more information about Edward, Meet the author – click
To pre-order "Essence: The Beginner's Guide to Veganism" click here.