Pumpkin and Cranberry Chutney is just one of those luscious additions to any curry or main dish which just needs a little lift or contrast. I love how the bitterness of the cranberries softens as they become infused with the sugar.
What to do next
Tag me on @ethiveganquantum on Instagram to show me what you've made and let me know you're happy for me to share.
My recipes are featured in vegan speciality publications: Nourished, Vegan Life, Plant Based and Vegan, Food and Living.
Order my first self-published book, "Essence: The Beginner's Guide to Veganism" part of the three-part Circle of Food series. My second book "Presence: The Ascending Vegan" – which explores how to maintain a vegan practice is out in 2027 – I have compiled all the chapters including recipes.
Going strong since 2013.
Love.
Edward x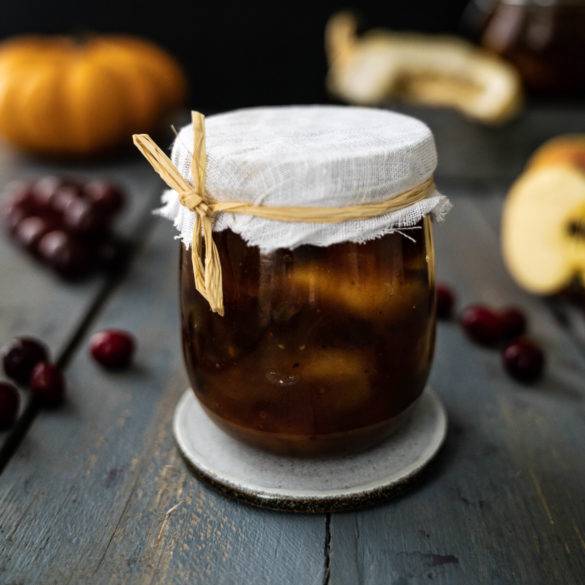 Ingredients
1kg pumpkin flesh, chopped
900g unrefined raw cane sugar
250g cranberries
150g sultanas
1 medium apple, skinned and chopped
1 onion, chopped
450ml malt vinegar
150ml apple cider vinegar
1 lemon, juice
8 grapes, juice
25g rock or sea salt
1tsp ground pepper (I use red pepper but any will do)
½ inch fresh ginger
½ tsp nutmeg, ground
4 bay leaves
400g tomatoes
6tbs olive oil
Instructions
Place all the ingredients in a large bowl. Combine well. Cover with a clean cloth and leave overnight. Note that the sugar will naturally sink to the bottom but don't worry about that.
Transfer the ingredients to a large stainless-steel saucepan. Bring to the boil, stirring frequently to dissolve the sugar.
Simmer uncovered for about 2 hours, stirring occasionally so that the fruit does not stick.
Remove the bay leaves, and pot into sterilised warm jars and seal.
Store in a dark space for about a month before using.
Once open, keep refrigerated.