Calming flavourful luscious evocative Vegan Cream Cheese with nutty sunflower seeds freshly squeezed lemon mixed with garlic and onion.
Plunder your booty. And, get jiving with fire.
This dish will spurt your belief that vegan food can't be made with a few choice ingredients.
Make this:
When you're bustling with energy having done a whole set at gym. You're ready to rumble with cream cheese in the fridge
When you've ambled up the local hill. And, purring for some creamy action
When you're footsteps are tapping. Get your act together and have a simple side that quenches your appetite
Vegan Cream Cheese was inspired when prepping for a picnic. Pea shoots, radishes and spring onions in tow, I clunked this recipe.
This cream cheese is a vegan condiment, paleo and raw.
What equipment to use
For this recipe, I suggest:
High-speed blender
What to do next
Tag me on @ethiveganquantum on Instagram to show me what you've made and let me know you're happy for me to share.
My recipes are featured in vegan speciality publications: Nourished, Vegan Life, Plant Based and Vegan, Food and Living.
Order my first self-published book, "Essence: The Beginner's Guide to Veganism" part of the three-part Circle of Food series. My second book "Presence: The Ascending Vegan" – which explores how to maintain a vegan practice is out in 2027 – I have compiled all the chapters including recipes.
Going strong since 2013.
Love.
Edward x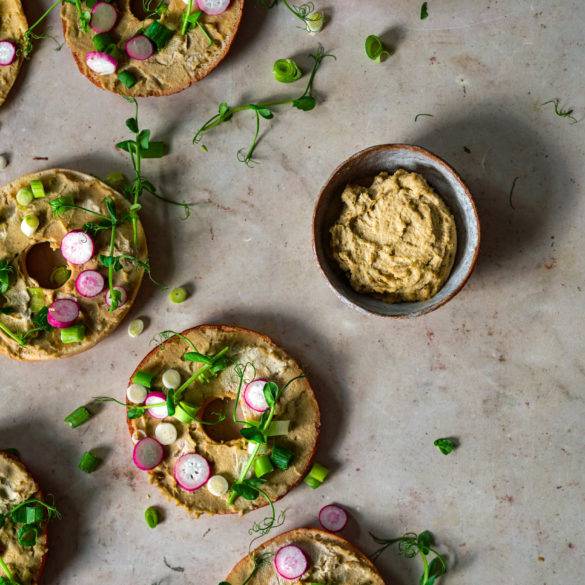 Ingredients
200g sunflower seeds

1 tsp probiotic powder or 2 x 20 billion live cultures

2tsb olive oil

1tbs garlic powder

1tbs onion powder

½ tsp salt

½ lemon, juice
Instructions
Soak the sunflower seeds in filtered water for at least eight hours. Set to one side.
Drain the sunflower seeds and discard the water.
In a high-speed blender, whizz together the sunflower seeds, and probiotic. Transfer the cheese to a bowl and cover with cling film, ensuring any air is removed – you want the probiotic to take effect without other bacteria vying for growth.  Place in the fridge for at least 3 or 4 days. The longer you leave the more mature the cheese will become.
Transfer the cheese to a mixing bowl. Toss in the garlic and onion powders, salt and lemon juice.
Place the cream cheese in a sterilised jar. Keep for up to two weeks (though it will still continue to ferment).