Vegan Fish and Chips reminds me of my youth when I would return from swimming sessions on the way back home. What I love about this dish is that the banana blossom offers a genuine alternative to fish and has a similar texture.  The batter to this Vegan Fish and Chips is light and gluten-free too. British food at its finest.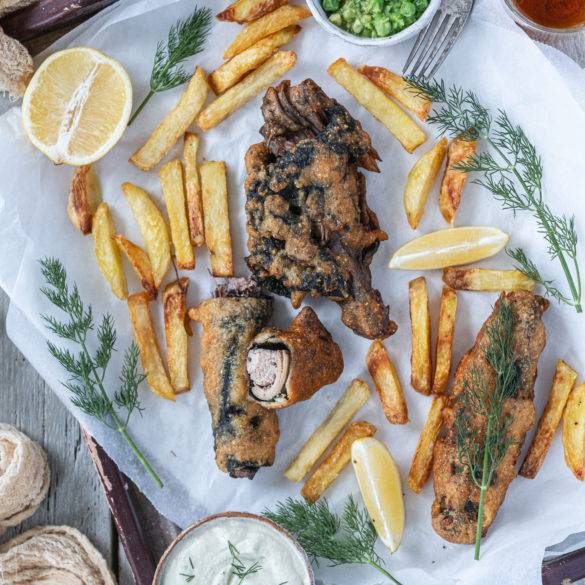 Ingredients
For Fish
225g banana blossom (taken from 400g can – if fresh is unavailable)
4 Nori sheets
½ lemon, juice
Batter
Dry ingredients
30g maize flour
30g rice flour
50g tapioca flour
1tsp baking soda
Pinch of salt
Wet ingredients
125ml beer
1tsp lemon juice
Oil for deep frying
For chips
Potatoes
Olive oil
Pinch of salt
Instructions
Preheat the oven to gas mark 180 degrees Celsius or if convention oven to 160 degrees Celsius.
Make the chips by peeling the potatoes, cutting into strips and placing into boiling filtered water for about 5 minutes. Drain and place into oven proof dish. Drizzle on a couple of tablespoons for olive oil. Season with a pinch of salt. Oven roast the chips for about 45 minutes until golden brown.
Drain the banana blossom and pat dry with a tea-towel. Place a nori sheet onto a flat surface and brush the nori with lemon juice. Place a portion of the banana blossom onto the sheet and tightly roll round the blossom. Use the brush as needed. Set to one side to rest.
Make the batter by mixing together the dry ingredients in a mixing bowl. Add in the wet ingredients.
Place kitchen towel on a plate and set to one side.
When the chips are ready and you are ready to serve, ensure that the oil has reached temperature by dropping a bit of the batter with a teaspoon in heated oil in a deep pan. If the batter floats to the surface and starts turning golden the temperature is ready to make the fish.
Dunk the blossom into the batter and place into the oil. Use a slotted spoon to turn over. Be careful of any splashing oil. Work quickly. The fish only needs to be heated for 3 or 4 minutes until golden.
For best results, serve immediately
Notes
By Edward Daniel, Vegan Chef and Former Chair of The Vegan Society. Contributor to Vegan Life Magazine, Plant Based Magazine, Vegan Food and Living Magazine and OK! Magazine. Speaker and cooking demonstrator at Vegan Life Life Festival London, Mind Body and Spirit Festival London, Veganes Sommerfest Berlin, and Bali Vegan Festival. Author of "Essence: The Beginner's Guide to Veganism".